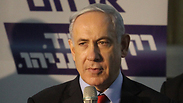 Likud leader Netanyahu
Photo: Ido Erez
In a last-minute media blitz ahead of next week's elections, Prime Minister Benjamin Netanyahu told several Israeli television networks on Thursday that his government "had not done enough" to temper the housing crisis.

"It is my personal mission and I will focus on it in my next term in office," he promised. He said the housing crisis demands a real answer with an appropriate increase in supply.

The incumbent waved away suggestions that he might be unseated by the Zionist Union challenger Isaac Herzog, who recent polls have shown leading the Likud by a few seats. "Most of the public wants me as prime minister," he said, "I will not say that I am feeling the pressure but I am certainly concerned."

He called on his supporters to help him secure his seat. "I think any person who sees the gap (in the polls) understands we have three days to close it."

In an election likely to be decided by which way several smaller factions sway, Netanyahu said the right-wing vote prefers him but is fractured. "What happens, when they split their votes to different parties, it leads to a gap in the polls between the Likud and Labor, and because of that we may end up with Tzipi (Livni) and Buji (Herzog) as prime ministers."

Reuters contributed to this report.