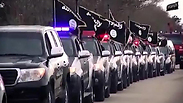 A spokesperson for the Islamic State militants released a recording claiming the group was not deterred by reports that its forces were forced out of the Iraqi city of Tikrit.

"The Islamic State will remain, and it is only getting stronger and achieving more victories," said Abu Mohammad al-Adnani in the recording. He claimed that ISIS leader Abu Bakr al-Baghdadi accepted the oath of allegiance by his Boko Haram counterpart and called on Muslims to immigrate to the area.




The ISIS spokesperson directed several threats towards Jews and Christians, saying they faced two options: "Convert to Islam or pay the ultimate price when your armies are expelled from Muhammad's peninsula, from Jerusalem, and all Muslim lands."

He warned that if Jews and Christians choose a third way – and insist on their current path – they will soon regret their choice and be unable to stop the surge to the caliphate. "The Jews and the Crusaders are scared and weak," said al-Adnani.

"The weak and the cowardly cannot achieve victory," he stressed, emphasizing they were cowards for not declaring their war is against Islam and the Sunnis. He also belittled the West's effort to kill senior ISIS commanders and fighters, saying death does not concern them and only fuels the fires of jihad.

Even as the US-led coalition executes strike after strike in Syrian territories of ISIS, the terror group's spokesperson continued to claim they had the upper hand. Al-Adnani said his group won the moment the pentagon, the coalition, and Europe celebrated when they reclaimed control of small towns like Kobani.

"We won the day Europe and US dreamt of reclaiming Tal Hamis, Mosul, Sinjar, Tikrit, Qaim, Derna, Tell Abyad, and more," said the ISIS spokesperson.

"On the other hand, we – with Allah's help – want Paris, before Rome and Islamic Iberia and after we blow up the White House, Big Ben, and the Eiffel Tower before Paris, and Rome," he warned.

Adding to the list of achievements, al-Adnani threatened that ISIS had massive goals. "We want Kabul, Karachi, Riyadh, Tehran, Baghdad, Damascus, Jerusalem, and Cairo, Sana'a, Doha, Abu Dhabi, and Amman. The Muslims will return to power, to be the vanguard and lead in every place."