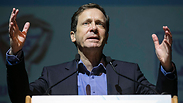 Zionist Union leader Isaac Herzog - 26
Photo: Reuters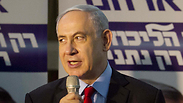 Prime Minister Netanyahu - 22
Photo: Ido Erez
The Zionist Union has increased its lead over the Likud, with Prime Minister Benjamin Netanyahu's party polling at 22 as opposed 26 for his main rival, Isaac Herzog, giving his center-ticket a clear lead over the ruling party with only four days before Israelis head to the ballots.

The poll was conducted for Ynet's print publication Yedioth Ahronoth late Thursday evening among a representative sample of 1,032 potential Israeli voters, by Dr. Mina Tzemach and Mano Geva (Midgam), two of Israel's leading pollsters.

The joint ticket of Israel's three predominately Arab parties – the Joint Arab List - came in third with 13 seats. It was followed by a tie for fourth by two of Israel's potential kingmakers – centrist Yesh Atid and rightist Bayit Yehudi, run by political allies-turned-rivals Yair Lapid and Naftali Bennett.




Though Netanyahu and his Likud party might come in second after the Zionist Union, they are well poised to form a center-right government and remain in power.

Related stories:

Nonetheless, recent numbers indicated a decline in support for Netanyahu, prompting the prime minister to urge rightwing voters to support him and not other right wing parties – namely Bayit Yehudi.




The poll gave the center-right Kulanu party led by former Likudnik Moshe Kahlon - which some anticipated to be the election's black horse – a mere 8 seats.

The Sephardic ultra-Orthodox party Shas polled at 7 seats, gaining off attempts to sway secular Sephardic (or 'mizrahi') voters, followed by the Ashkenazi ultra-Orthodox party United Torah Judaism with 6.

Leftist Meretz was tied with right wing Yisrael Beytenu – run by Foreign Minister Avigdor Lieberman. A Shas offshoot with more hawkish views called Yachad was polling at 4 – which is also the election threshold.

The poll had a 2.5 percent margin of error.