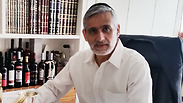 Yachad leader Eli Yishai
Photo: Eli Mendelbaum
Eli Yishai's new party Yachad - branded as an alternative to Shas and as a rare display of unity among different sectors - is populated with problematic figures, primarily far-right activist Baruch Marzel, whose past is mired in violence and controversy.

Last week, one of Marzel's followers was indicted for assaulting and spilling juice on Arab MK Hanin Zoabi, while this week the police charged Marzel himself for assaulting a Palestinian man in Hebron.

During his 14 years at the helm of Shas, Eli Yishai worked to brand the party as a typical ultra-Orthodox party, a perfect Sephardi copy of United Torah Judaism. But after leaving the party over his refusal to accept Aryeh Deri's leadership, Yishai hoped to draw those disappointed from the two Haredi parties to him and create a new political home for them in a different kind of ultra-Orthodox party – one that is moderate and pragmatic.

However, the struggle to pass the new election threshold forced him to include additional factions within Yachad and after his talks with Bayit Yehudi's Tekuma faction failed, Yishai went even further to the right.

Yishai also reached a quiet understanding with Shas that he would not try to chip at its electorate and turn to new audiences instead. Since then, he has been focusing his efforts on voters disappointed by Bayit Yehudi.

Related stories:

Over the years, Yishai has notably held very conservative views, some even controversial, on nationalistic and religious issues. He once called homosexuality a "disease" and wished members of the LGBT community "get well soon," and as interior minister he made controversial comments against African migrants, saying they bring diseases like AIDS and a culture of drug-use with them from their countries of origin.

Over the past few weeks, after joining forces with the Otzma Yehudit faction, Yishai - who is usually reserved and quiet - vocally supported the disqualification of MK Hanin Zoabi from running for the 20th Knesset. During the discussion at the Central Election Committee, the Yachad leader got up and told her "You belong in the Gaza parliament."
Automatic backing to Netanyahu
Yishai is one of the only party leaders to announce in advance that he would recommend Benjamin Netanyahu as prime minister to the president, and has declared last week that his party would quit any government that raises the possibility of banishing Jews from their homes.

The Yachad party held many of its election gatherings in right-wing strongholds in Judea and Samaria. One of the first and the best of the gatherings was at Yeshivat Torat HaChaim in the religious settlement Yad Binyamin, whose leader's radical response to the Gaza disengagement and the evacuation of Gush Katif, where the community originated, in which he decided to disengage from the state and adopt ultra-Orthodox worldviews.

Yachad was quick to back Prime Minister Benjamin Netanyahu when he decided to speak in front of the US Congress only two weeks ahead of elections, despite the public confrontation with the Obama administration. Yishai's party also backed Netanyahu during the scandal that erupted when the prime minister tried to intervene in the selection committee for the Israel Prize.

"The era in which the radical and racist Israeli left gives out awards to its friends on the 'correct side' of the political map is over," Yishai said.

MK Yoni Chetboun, number 2 on Yachad's Knesset list, was the only member of the coalition to vote against the new IDF draft law, meant to lead to the drafting of more ultra-Orthodox youth to the army. Several days ahead of the vote, Chetboun passionately defended the legislation, saying its final version was good and balanced, but at the last moment claimed the bill proposal was reeking of Haredi hatred.

Even before that, Chetboun locked horns with his former party head Naftali Bennett and was considered by many in the religious-Zionist sector as out of place, too conservative for Bayit Yehudi. But it was Chetboun's decision to break party discipline and vote against the legislation for equality in the burden of service, a bill proposal Bayit Yehudi played an important role in formulating, which served as the last straw for Bennett. The Bayit Yehudi leader was determined to thwart Chetboun's reelection to the party's Knesset list, and Chetboun had to quit the party even before the primaries were held.

Number 4 on the Yachad list is far-right activist Baruch Marzel from Hebron.

Marzel represents the Otzma Yehudit faction within Yachad, a faction affiliated with Rabbi Meir Kahane's Kach party. Like Zoabi, Marzel was also barred from running for Knesset by the Central Election Committee, but the Supreme Court accepted Marzel's appeal and overruled the decision, allowing him to run.

Earlier this week police decided to charge Marzel with assaulting a Palestinian man in Hebron, an incident that happened two years ago.

In February 2013, Marzel, on his way to the Cave of the Patriarchs, entered the yard of Issa Amru's home. Video footage from the incident shows Marzel arguing with Amru and his friends, who are demanding Marzel to leave, while Marzel claims they are the ones who called him into the yard.

According to the charges, Marzel hit Amru in the face while the Palestinian and his friends were trying to push him out of the yard. A group of IDF soldiers who arrived at the scene had to separate the warring sides.

Marzel, who is facing charges of assault and trespassing, questioned the timing of the decision to indict him. "They are afraid and trying to hurt my candidacy in every way possible. The police and the prosecutor's office won't accept the Supreme Court's decision to allow me to run," he said.

Over the years of his political activity, Marzel was convicted of a slew of nationalistically-motivated crimes, including assaulting Arabs and supporting Jewish terrorists. A year ago, Marzel formed a "Prayer Center" at the grave of the 1994 Cave of the Patriarchs massacre perpetrator Dr. Baruch Goldstein in Kiryat Araba, promising "salvation" to those seeking health, a match, livelihood and legal triumph.

Marzel is also one of the main figures in the Lehava organization for the prevention of "assimilation." In 2011, he was one of the leaders of the "March of Beasts," a protest held by religious opponents of the Gay Pride Parade in Jerusalem.

Number 3 on Yachad's list is a fairly unknown candidate, Michael Ayash, 50 years old from Safed, who is the founder and leader of a chain of religious educational institutions in the city, Yated Hateshuva. The chain is affiliated with Shas and the man at its helm, Rabbi Refael Cohen, served as the deputy Safed mayor for the Shas party and was even placed in its Knesset list, albeit in a non-realistic spot.

Despite that, owing to Ayash's Tunisian roots - much like Yachad's spiritual leader, Rabbi Meir Mazuz - and his ties to French-Jewish businessmen who are close allies of Eli Yishai, he scored a spot on the list. Ayash himself also has past ties to Shas and some of his relatives are known activists in Shas.

Number 5 on the Yachad list is Sasson Trebelsi, 42 years old from Kfar Saba, the head of the religious council in the city. Trebelsi represents Rabbi Meir Mazuz, Yishai's spiritual leader, in the new party. Trebelsi studied at the Kisse Rahamim yeshiva, where Mazuz serves as dean, and is considered to be one of Rabbi Mazuz's closest confidants. Over the past few months, after quitting Shas, Trebelsi has been working as Rabbi Mazuz's spokesperson. Trebelsi was ordained as a rabbi and has legal education. He is known among Mazuz supporters as a politico who founded several religious institutes.
Encouraging the disobeying of orders
Number 6 on the list is Amital Bareli, 39 years old from Be'er Sheva. He made headlines almost a decade ago when he served as the military rabbi of the northern division in the Gaza Strip and encouraged soldiers to disobey orders during the Gaza disengagement. The Southern Command's military court accepted a plea bargain in Bareli's trial and convicted him of incitement to rebellion, sentencing him to four months in prison and stripping him of his first lieutenant rank.

On July 24, 2005, Rabbi Bareli arrived at the Kissufim Checkpoint in uniform, wearing his officer's ranks, and called on soldiers at the checkpoint to ignore the orders given them to block civilian access to Gush Katif. All of that was done as news cameras looked on.

"I don't understand what's happening here, how can you obey such a thing? We're the Israeli Defense Force, an army whose goal is to defend the State of Israel and defend the people of Israel, not to expel brothers from their homes. We didn't join the army for that. It is forbidden to obey a superior order like that, I won't give my soldiers an order that contradicts the IDF's values, that goes against Jewish tradition and against Zionism," Bareli said at the time.

Later, Bareli expressed regret of his actions and claimed he did not invite the media to the scene. At the same time, however, he agreed to accept the "Hero of Israel" award from the far-right organization "SOS Israel" for his actions that day. In a 2009 interview for a SOS Israel leaflet handed out at synagogues, he mentioned a statement made by his grandfather, saying that "you must disobey orders to uproot Jews from the land of Israel" and recounted the incident for which he was court-martialed.

"I was the rabbi of the northern division in Gaza. I was asked to aid in preparing the expulsion plan and indirectly aid in uprooting Jews. I informed my commanders in advance that I have no intention in aiding anything that pertains to expelling Jews from their homes. Later, when I was faced with the practical test, when Jews were prevented of passing through the Kissufim Checkpoint, I told the soldiers there that I did not join the army to banish Jews from their homes and I was not going to obey an order that contradicts moral values and the Torah, so I do not intend in aiding that. I was arrested for this statement. I was sentenced to four and a half months in prison. I served almost three months and I was stripped of my rank. I spent this period with peace of mind and happiness for withstanding this difficult trial... I'm happy I did not take part in this crime of expulsion," he said.

Bareli spent the last few years in education, consulting and research, mostly on issues of religion and state. He is the grandson of Rabbi Moshe-Zvi Neria, a prominent figure in religious Zionism who was known as the "father of crocheted kippas".

At number 7 is Dudi Shomenfeld, 52 years old from Migdal HaEmek, a media figure who has been hosting a program on current events on Haredi radio for over a decade. Shomenfeld champions social causes and is part of a campaign to change the ultra-Orthodox society's treatment of youth who drop out or youths who enlist in the IDF, as well as a campaign against ethnic discrimination in Haredi educational institutes.