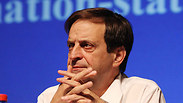 Dan Meridor
Photo: Ido Erez
Dan Meridor and Mordechai Tzipori – two prominent former Israeli politicians from the Likud – said they will not vote for their party and Prime Minister Netanyahu in the upcoming election.

"Bibi is the biggest phony in the world. He my talk sweet, especially in English, but if psychologists or other experts analyze his speeches it is clear they are just a hot air," Meridor told Yedioth Aharonoth's Nahum Barnea in a report published this Friday in Ynet's print publication.

Meridor is considered one of the Likud's 'princes' (a term used for sons of the party's founders, like Benny Begin, son of former prime minister Menahem Begin), and left the party after a failed attempt to rejoin political life during Netanyahu's last government. He was always considered a representative of the party's more dovish side.

Meridor slammed Netanyahu for Israel's growing diplomatic isolation and what he insinuated were anti-democratic tendencies in his leadership and term.

"We have lost our way. If we don't chance our bearings we'll hit an iceberg," Merdior said.

Meanwhile, Mordechai Tzipori, a former commander in the Irgun (Etzel), the pre-state militia that evolved into Herut – the Likud's pre-state political predecessor – also had harsh words for Netanyahu.

The former warrior-turned-politician who served a minister and MK for the Likud from 1977-1984 and is now 91-years-old, says that despite his long history with the party, spanning from before the state's foundation to the last elections, he will not vote for Netanyahu.

"I unequivocally say: We mustn't vote for Netanyahu," he told Yedioth.

The Zionist Union has increased its lead over the Likud, with Netanyahu's party polling at 22 as opposed 26 for his main rival, Isaac Herzog, giving his center-ticket a clear lead over the ruling party with only four days before Israelis head to the ballots.

Though Netanyahu and his Likud party might come in second after the Zionist Union, they are well poised to form a center-right government and remain in power.

Nonetheless, recent numbers indicated a decline in support for Netanyahu, prompting the prime minister to urge rightwing voters to support him and not other right wing parties – namely Bayit Yehudi.