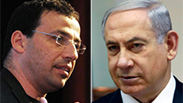 Raviv Drucker (L) / Benjamin Netanyahu (R)
Photo: Yaron Brenner / Reuters
Netanyahu refuses interview by critical journalist
PM offered interviews to all of Israel's major media outlets, but refused to be interviewed by Channel 10's leading political analyst Raviv Drucker because he has history of investigations into prime minister's finances; Channel 10 refused to conduct interview.
Israel's Channel 10 was forced to turn down an interview with Prime Minister Benjamin Netanyahu after he refused to be interviewed by one of the channel's most prestigious journalists, who has a rich history of investigations into Netanyahu and possible illegal activities on his part.

Netanyahu – who rarely takes open questions from Israeli media – went on a media blitz ahead of the Tuesday election and offered interviews to all of Israel's leading media outlets Thursday evening. The offer was initially accepted by Channel 10, but then rescinded after the Prime Minister's Office refused to have journalist Raviv Drucker interview Netanyahu alongside Tamar Ish Shalom.

Instead of broadcasting the interview, Ish Shalom read a statement on behalf of the channel, and told viewers Channel 10 refused to validate Netanyahu's demand, which they said infringed their journalistic integrity.

"(Netanyahu) vetoed Drucker. A demand we obviously could not accept and were thus forced to cancel the interview. It is unfortunate that we cannot ask Mr. Netanyahu questions… but here at Channel 10 we will not accept external directives or bans from any candidate. We apologize to our viewers," she said.

Netanyahu ended up speaking with Israel's Channel 1 and 2, and in both cases was directly asked about Drucker. He told Channel 2's Yonit Levy that as prime minister he "has the right not to accept every interview", but refused to comment on claims that it was his office which had initiated the interview.

"What does it say about me?" she said, feigning offence at Netanyahu's willingness to be interviewed by her, but not the hard hitting Drucker.

Drucker and Channel 10 have locked horns on countless occasions since the channel's establishment in the early 2000s. In 2011, Netanyahu and his wife sued the channel for slander and only a few months ago a number of foreign ministry officials were fired for praising Drucker's investigations into the prime minister.

Drucker, a prominent political journalist and analyst, led a number of investigations into alleged illegal misconduct on part of Netanyahu.

In March 2011 Drucker broke a story about Netanyahu and his wife Sara's overseas travel expenses in the 10 years between his first and second terms as prime minister.

The report, which alleged that Netanyahu took expensive flights, hotels and restaurant meals paid for by wealthy associates, led to a state comptroller's investigation into the matter. Netanyahu denied the allegations and filed a libel suit against Drucker.

Moreover, at the time, channel officials said some in the PMO had insinuated that should Drucker be let go, the government would be willing to help bail the channel out. The Prime Minister's Office said that accusation was "baseless."