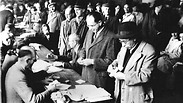 Shanghai Ghetto (archives)
Photo: Amir and Dana Mann
The People's Republic of China (PRC) and the World Jewish Congress (WJC) will host, for the first time, an event commemorating the 70th anniversary of the liberation of the Shanghai Ghetto and the end of World War II in China.

The event was announced following a recent meeting in London between WJC CEO Robert Singer and PRC Minister of the Overseas Chinese Affairs Office Qiu Yuanpin.

Chinese Jews

Some 20,000 Jewish refugees fled Europe for China during World War II: 'Shanghai was the only city that opened its gates for Jewish refugees. We will never forget what this city has done for us.'

"China is one of the top players in international affairs, and it is in the best interests of world Jewry that we forge even closer relations with Beijing," Singer said at the meeting.

The Shanghai Ghetto – formally known as the Restricted Sector for Stateless Refugees – was home to about 23,000 Jewish refugees in Japanese-occupied Shanghai until its liberation by the Chinese on September 3, 1945 at the end of World War II.

The WJC has been developing relations with China since 1991 and was instrumental in paving the way for the establishment of full diplomatic relations between Israel and the PRC in 1992.

"We will commemorate, for the first time, part of the Holocaust that tends to get less attention," said Ronald S. Lauder, president of the WJC. "This historic event also marks another step towards strengthening the bonds between the Chinese and Jewish people."

Lauder will chair the event, which will take place in September and include 100 WJC representatives from Jewish communities around the world, representatives of the People's Republic of China, and survivors of the Shanghai Ghetto.

"It is our shared duty to promote the mutual understanding, friendship, exchange and cooperation between the overseas Chinese and Jewish people," said Qiu Yuanpin. "Both Chinese and Jewish nations have suffered at the hands of Fascist forces, but, ultimately, achieved final victory after unyielding struggle. We hope to commemorate this historic moment."