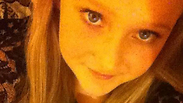 "There is no comparison between the two Bat Mitzvah celebrations," said Mita Bentow, the mother of Hanna, who celebrated a second Bat Mitvah in Jerusalem – exactly a month after her Bat Mitvah celebrations were tragically cut short by a terror attack which killed Dan Uzan, who was guarding the celebration outside the synagogue.

"Here, in Israel, we had a wonderful opportunity to celebrate Hanna's Bat Mitzvah in a different environment, which is much more relaxed and safe – and also get some distance from the incident we experienced there, in Denmark. However, even in moments of joy, we couldn't help but think about Dan. We think about him and his family all the time. Right after we arrived in Israel, we went to the Western Wall, and my husband said Kaddish for Dan and prayed for his soul."

When the shots were fired outside the synagogue, Hanna and her family, along with the guests, ran to the secured room downstairs, where they waited until the police arrived.

"We were dancing and rejoicing when suddenly the second Jewish guard entered and told us to turn off the music," recalled Mita. "We didn't know there were shots fired outside. Afterwards he entered again and yelled: 'Everybody down.'"

With the help of a generous donor, the family was invited to celebrate a second Bat Mitzvah in Israel and travel around the country for nine days. The Bentow family visited Eilat, where they swam with dolphins, organized a barbeque dinner for IDF soldiers, spent an evening in the Old City of Jerusalem and prayed at the Western Wall.

The highlight of the visit was the party celebrating Hanna's coming-of-age at the Matan Women's Institute for Torah Studies, attended also by other Bat Mitzvah-aged girls who came to rejoice with Hanna.

"Hanna's Bat Mitzvah was a wonderful experience. We invited our Danish friends who made aliyah, and they shared in our joy. The celebration here was much calmer than in Denmark. The children had a great time," said Mita, Hanna's mother.

Meanwhile, in a show of unity, thousands of people of different faiths formed a human ring outside the synagogue in Copenhagen on Saturday where Uzan was fatally shot last month.

Organizer Niddal El-Jabr says the idea behind the show of unity was to "send a powerful statement" that "Jews should able to have their religion in peace." Saturday's gathering was inspired by similar symbolic events in Scandinavia in recent weeks. On Feb. 27, Copenhagen's mayor joined a "ring of peace" on the nearby City Hall square. Police then had banned any events outside the synagogue, citing security.

Associated Press contributed to this report.