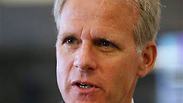 Israel must try to repair relations with the United States no matter who wins Tuesday's election, said Michael Oren, a former Israeli ambassador to Washington and a potential foreign minister if his party joins the next government.

"We have to do a major reach-out. There's some work to be done," Oren said, citing strained ties after Prime Minister Benjamin Netanyahu's March 3 speech to Congress assailing a potential nuclear deal with Iran sought by President Barack Obama.

The US-born Oren, 59, was appointed ambassador by Netanyahu in 2009 and served until 2013. He is running for parliament as a candidate of the centrist Kulanu party that could be a kingmaker in building a governing coalition after the poll.




In an interview with Reuters, Oren, a historian, said Israel needed to restore bipartisan Congressional support in the face of Democrats' anger over Netanyahu's acceptance of the Republican invitation to address Congress.

One way to try to achieve that, he said, would be to declare that Israeli settlement construction in the West Bank would be limited only to areas which Israel intends to keep in any future land-for-peace deal with the Palestinians.

"I think we can go very far to ameliorating some of the strains with the Democratic party if we don't build outside of these blocs," said Oren, a possible pick for foreign minister if Kulanu, led by economic reformist Moshe Kahlon, is in the next government.

Obama has criticized Israeli settlement-building in territory Israel captured in the 1967 Six-Day War and which Palestinians seek for a future state. Israel cites Biblical and historical links to the land, as well as security concerns, in rejecting any return to pre-1967 lines.

US-brokered peace talks with the Palestinians collapsed in April, and Oren said he did not envisage their early resumption. But he said Israel could take steps, such as allowing Palestinians greater freedom of movement in the West Bank, to cultivate what he called a "two-state situation".

"Doing nothing is not an option," Oren said, describing one far-right party's proposal to annex parts of the West Bank as "disastrous" and inviting Israel's "instant isolation" internationally.

"We'll lose America, you have to work hard to lose America but that would do it," he said.

"This is what we have to do in the interim: we have to build up a two-state situation ... and we have to prove to the world that we are serious about any future negotiations for a final settlement with a Palestinian partner."

Oren said that despite the four-seat lead the center-left Zionist Union, led by Isaac Herzog and Tzipi Livni, has opened over Likud in the final opinion polls before election day, the race was still too close to call.

Surveys before Israel's past elections, in which no one party has ever won a majority of parliament's 120 seats, have not always been accurate, he said.

And, Oren noted, the party that captures the most votes is not necessarily the ultimate winner, since another faction might have more allies for a coalition government and get the nod from Israel's president to try to form one.