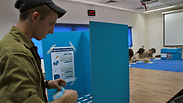 IDF soldier voting
Photo: AFP
Voting for the 20th Knesset officially began in the IDF on Sunday, with the first to cast their ballot being air force officers who voted at Sde Dov before flying abroad as part of their duties. Thousands of soldiers voted before the evening.

A total of 668 ballot boxes have been set up for IDF soldiers. Conscripts and reservists can vote at any polling station located at an army base, and, as in previous elections, there will be mobile polling stations traveling between distant army posts to allow those serving there to vote.




The military emphasized that the ballot is secret, even though soldiers are asked while voting to provide personal details in another envelope in order to make sure that the soldier cannot also vote at the polling station next to his or her home.

Cadets and trainees who are in pre-military courses on IDF bases, but are not yet soldiers, cannot vote at the military polling stations but must vote near their homes, while hospitalized soldiers can vote at civilian polling stations that will be opened near hospitals.

Soldiers who are on leave on the day of elections are allowed to vote at polling stations set up in military offices and will not be required to vote in uniform.

According to the lines witnessed at the naval base in Haifa on Sunday, it appeared that there would be a high voter turnout among IDF soldiers.