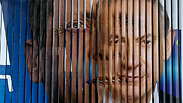 Less than 24-hours to elections
Photo: Reuters
"I promise: I will be a prime minister to everyone. For right and left, for settlers, Haredim, Druze, Arabs, Circassians. I will be prime minister for the center and for the periphery, for students and senior citizens," Zionist Union leader Isaac Herzog said Monday, on the eve of the elections to Israel's 20th Knesset.

His promise came as election candidates made their final appeals to voters on Monday, the eve of an election that will determine whether Prime Minister Benjamin Netanyahu can secure another term in office. The latest polls have shown Netanyahu's Likud party trailing the centrist Zionist Union by about four seats.

Herzog focused on centrist voters, taking direct aim at Yesh Atid voters. Netanyahu for his part focused on shoring up rightwing voters, whose shifting support for parties like the Bayit Yehudi have bled the Likud in the polls.

"After a long period of division, I will unite Israel. For that goal I need your voice. The power to lead a change is in your hands. A change we have long hoped for. Tomorrow we can do it – together."

On the final day of campaigning Monday, Netanyahu visited Har Homa, a Jewish development in east Jerusalem that is viewed as an illegal settlement by the Palestinians and the international community.

Netanyahu vowed to preserve Jerusalem's unity "in all its parts" and said he would "continue to build and fortify" the city to prevent any future division.

Herzog for his part took aim at centrist voters, hoping to pull some votes from Lapid, whom Herzog said would "strengthen Bibi."

"Whoever wants Yesh Atid in the government has to vote for us – there's no other choice. Whoever wants a change (in government) must not make a mistake here. The stakes are high.

"We can form the next government with Yesh Atid, but there will be no change if we don't win – that's the truth of it," Herzog told supporters.

Despite the gap in polls, the numbers do not necessarily rule out Netanyahu's chances of forming the next government after Tuesday's election but have rattled the Likud, which began the campaign all but assured that it would stay in office.

In recent days it has been on a get-out-the-vote blitz with Netanyahu warning against the rise of a left-wing government in a series of interviews and before tens of thousands of hard-line supporters at a Tel Aviv rally organized by the right on Sunday evening.

"This is a fateful struggle, a close struggle. We must close this gap. We can close this gap," Netanyahu said to roaring applause at the rally.

His centrist rival, Isaac Herzog, has been surging in the polls on a campaign that promises to repair ties with the Palestinians and the international community and also bring relief to the country's struggling middle class.

Neither side is expected to get more than a quarter of the votes so the election will likely be followed by a lengthy period of negotiations over the next coalition government.

A potential kingmaker could be found in the new centrist party of Moshe Kahlon, who is running on an economic platform that deals almost exclusively with bread-and-butter issues while putting Israel's diplomatic challenges on the back burner.

Kahlon is demanding to become finance minister in the next government and could tip the scales in favor of either Netanyahu or Herzog.

The son of Libyan immigrants, Kahlon is popular with working class Israelis thanks to his Middle Eastern background, his modest upbringing and for his reform of the local mobile-phone market.