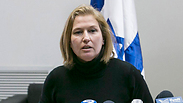 Tzipi Livni
Photo: Reuters
With less than 12 hours before the voting booths open, Zionist Union co-leader Tzipi Livni announced that she would be willing to relinquish her right to rotate as prime minister with party chief Isaac Herzog, should he form the coalition.

In recent days – and in consultation with professional advisers on the day after the elections – the Hatuna chairwoman said that the rotation will not be an obstacle during the negotiations to replace Prime Minister Benjamin Netanyahu and set up a government led by Herzog.

Sources in the Zionist Union said that the announcement on the rotation was intended to strengthen the candidacy of Herzog and add momentum to the party's lead on the Likud.

The statement focused on the day after the elections when the factions engage in negotiations over the potential coalition but also appeals to the general public mere hours before voters head to the ballot box.

In recent days, Livni has mentioned behind closed doors the possibility she would waive the central part of her agreement with Herzog, but the decision was not announced publicly to avoid stirring up controversy.

Likud swiftly reacted with a statement, saying that "Tzipi and Buji's zigzagis a cynical move meant to increase the gap between the Zionist Union and Likud in order to ensure the formation of a radical left government in partnership with the Arab list and the left-wing parties. Just as they surrendered to polls in this case, so they will surrender to international pressure to give up and retreat."