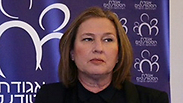 Tzipi Livni
Photo: Motti Kimchi
After announcing Monday evening that she was giving up her power-sharing deal with Zionist Union co-leader Isaac Herzog, Tzipi Livni said "it was important for me to clarify that we make decisions in order to replace Netanyahu.
"I set all considerations aside to replace him. I did the deed; now it's your turns, citizens of Israel, to do a deed. The goal is to replace Netanyahu. That's what we are focusing on, and on what the citizens should focus tomorrow. Herzog and I are a united front."
Livni previously agreed with Herzog that she would replace him as prime minister after two years if the Zionist Camp succeeds in forming a government. She said Monday that it was clear to her and Herzog that the rotation would not be an obstacle to removing Netanyahu from power. "We are not politicians who are here to arrange something for ourselves," she said "especially not a work schedule."
"The giving up of the rotation is proof that Buji and Livni are cobbling together a government with the haredi parties – why else give up the rotation?" said Yesh Atid Chairman Yair Lapid.
"I have seen in the last two days how everyone is preparing for surrender to the haredi parties. They already announced that they will yield on the equal share of the burden and bring back the budgets for the yeshivas, and all on your dime. It's your money."
"Tzipi Livni did away with the demand for a rotiation in order to bring about a unity government with the left," said Bayit Yehudi Chairman Naftali Bennett. "Only last evening, Netanyahu attacked Herzog for his willingness to divide Jerusalem, and this even it's becoming clear that he is forming a government with him."