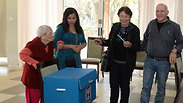 Voting in Kibbutz Nir Am
Photo: Herzel Yosef
More than half a year after the end of Operation Protective Edge, the residents of the Israel-Gaza border area went to the polls on Tuesday.
Following the cessation of the most recent military campaign in the Strip, residents of Gaza border communities returned to their homes with mixed feelings. "I very much hope that we end this absurd situation in which every year and a half or two years there's an operation in Gaza," said Ofer Lieberman of Kibbutz Nir Am.
"It's unacceptable to us and it certainly should not be acceptable to the State of Israel. We need to reach a solution and it doesn't matter which one. Either a negotiated settlement or destroying the Gaza Strip, it doesn't matter at all."
Lieberman went on to say that "we need a government that will be decisive on this issue, and now we reached this day when we can make a change. We need a solution that would allow us to create a normal life for our children and grandchildren. We are tired of rounds of violence and we want to live in a normal state of calm. I very much hope that there will be a change in direction, no matter who the prime minister is."
Danny Cohen of Kibbutz Ein HaShlosha said that in addition to secutiry issues, Gaza border residents are also concerned with economic. "I expect a change, because the situation here over the past few years is not normal. I expect a change – not just in security, but in the economy. It's incorrect to think that Gaza border residents suffer only from security problems.
"The cost of living, trouble with housing – it's just like central Israel here. Despite it all, I feel there's a good atmosphere here, unlike last time. Those who live near the Gaza border are always looking for the light at the end of the tunnel. People want to know that someone is doing something on their behalf to improve their lives."
Voters also turned out in neighboring Sderot. The race there is clearly divided between supporters of long-time local favorite Amir Peretz, running on the Zionist Union list, and those of Mayor Alon Davidi, who supports Likud.
"Sderot has always been associated with Labor, mostly because of Amir Peretz," said a local political source. "In recent years, this has changed, and Likud has captured a considerable base in the city – but the Labor core still exists and is now trying to replicate past success. The elections in Sderot have never been about security issues, but rather about socio-economic matters. The social problems in Sderot bother residents more than the rockets."