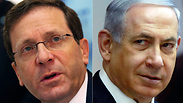 Isaac Herzog (L)/ Benjamin Netanyahu (R)
Photo: Reuters
The exit polls from Israel's three main television stations showed the Zionist Union and Likud were tied at around 27-28 Knesset seats each in the 2015 Knesset elections, with two giving the Likud a slight lead. The near tie leaves them both poised to try and muster a coalition, though pre-election polls gave the Zionist Union a lead on Netanyahu's Likud.
Channel 10 had Netanyahu leading the Zionist Union 27 to 26, and gave the Joint Arab List 13, Yesh Atid 11, Kulanu 10, Bayit Yehudi 8, Shas 7, UTJ at 7 and Yisrael Beiteinu at 6, with Meretz at 5.
Channel 2 television had the Likud in the lead with 28 seats and the Zionist Union a close second on 27. It had the Joint Arab list in third with 13, Yesh Atid in fourth on 11, and Kulanu in fifth with 10 seats. The right wing Bayit Yehudi polled at 8, Shas at 7, United Torah at 6 and Meretz at 5 together with Yisrael Beiteinu.
Channel 1 updated its exit poll on Tuesday evening which predicted that the far-right Yachad, newly formed by former Shas member Eli Yishai, would win 4 Knesset seats. Other exit polls released by Channel 2 and Channel 10 did not have Yachad passing the election threshold.
According to the exit poll by Channel 1, the Likud will get 27 seats, Zionist Union 26, Join Arab List 12, Yesh Atid 11, Kulanu 9, Bayit Yehudi 8 and Shas 7.
The Yahad party, led by former Shas leader Eli Yishai, failed to cross the election threshold according to two of the polls, a loss which could prove detrimental to the right wing coalition Netanyahu hopes to form.
Prime Minister Benjamin Netanyahu's Likud party has been trailing in the polls, between three to five seats behind the newly amalgamated Labor party, led by Isaac Herzog, and Hatnuah, headed by Tzipi Livni. The new joint list, Zionist Union, has maintained an almost consistent lead in the opinion polls since mid-February.
Despite the gap in polls, the numbers do not necessarily rule out Netanyahu's chances of forming the next government after Tuesday's election but have rattled the Likud, which began the campaign all but assured that it would stay in office.
In recent days it has been on a get-out-the-vote blitz with Netanyahu warning against the rise of a left-wing government in a series of interviews.
The ballot box opened at 7am and closed at 10pm, after 15 hours of voting in more than 10,000 locations across Israel.
A fairly robust turnout of 13.7 percent by 10am soon began to slow, and by 2pm, a turnout of 36.7 percent was lower than that of the 2013 elections.
The challenge ahead of both party leaders is now to cobble together a coalition of 61 or more Knesset members, no easy task given the disparate and often fundamentally opposite parties that make up parliament.