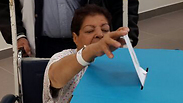 Woman votes at hospital near Hadera.
Photo: Alex Greenman
Police opened 51 investigations on Tuesday related to alleged voting fraud ranging from impersonation, stolen ballots and threats against ballot officials, and 23 suspects were being pursued.

One man was arrested for voter fraud and several voting stations were closed due to voting irregularities and fears of impersonation.

Several attempts to subvert the voting process were noted in the north – four voters who arrived at their designated voting stations in Nahariya, Kiryat Tiv'on and Kiryat Ata found that someone had already voted in their name. Local police began investigating each incident.

Police said that one man claimed that someone else may have used his lost drivers license to vote in his name. A similar incident was reported in Afula where a 19-year-old who arrived to vote found out that someone had voted in his name shortly before he arrived at the voting site.

In another case of attempted voting fraud, a man tried to submit three envelopes into the voting box. At another voting location, a woman attacked a secretary of the Ballot Committee in the western Galilee after he refused to let her enter the voting booth with her mother. The woman was taken in by police for further questioning.

Natalia Goichman, who arrived at her voting station in Rehovot at 12:30 pm, claims she was told that she was registered as voting with two other individuals earlier in the morning. According to Goichman, her parents had gone to vote in the morning but she had not been with them. The Ballot Committee said that they had registered seeing her identification card and that they would not let her vote, and refused to investigate the issue further.

Goichman filed a complaint with the police. "I was there for about half an hour," she said, "the policeman at the site made a phone call and so did the secretary of the Ballot Committee, but they did not let me vote in the end."

The Ballot Committee's spokesman said they would look into the issue.

In Beit Shemesh, near Jerusalem, a 23-year-old man was arrested after he pushed over the stand with the voting ballots. The incident revolved around a secretary of the Ballot Committee who accused the chairman of the voting station of entering extra votes. The man was taken in for further investigation.

In the vastly Arab populated Umm al-Fahm in northern Israel, a complaint was issued for suspected voter fraud. The chairwoman of the voting station was taken in for investigation after being accused of entering envelopes illegally into the voting box.

Complaints were filed Tuesday of illegal use of handicap ballots. Police said that they would look into the incidents and open criminal proceedings against those who signed false affidavits and unlawfully voted at handicap booths.

Election Committee members toured the disabled voting booths on Tuesday, including committee chairman Judge Salim Jubran, and witnessed young citizens who were voting at handicap booths for no reason. The committee members asked police to investigate the individuals.

One voting station in southern Israel already closed down by Tuesday afternoon after all the registered voters at the site, 72 residents, had carried out their right to vote. The votes were transferred to the central polling station.

Michal Margalit, Roi Yanovsky, Hassan Shaalan and Omri Efraim contributed to this report.