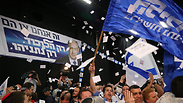 Celebrations at the Likud headquarters
Photo: Motti Kimch
As exit polls showed Likud and Zionist Union neck and neck in Israel's elections, Likud leader Benjamin Netanyahu dubbed the results "a great victory for the Likud party, a great victory for the national camp headed by Likud, a great victory for the people of Israel." Head of the Zionist Union said his party would wait for final results, and vowed to try and form a center-left coalition.

At the Likud's main event, a beaming Netanyahu he told his voters he would not form a unity government with the Zionist camp.

"Against all odds we pulled out a major victory of the Likud. We achieved a major victory for our people. I am proud of the people of Israel. Now we must form a strong and stable government that will defend the security and welfare of all Israeli citizens."

He committed to his supporters that "we promised to deal with the cost of living and the housing crisis – and we will."

The Zionist Union, meanwhile, refused to concede despite being tied with the Likud they would work to form the next government.

"This result allows us to return to power," said Herzog to supporters at a sports arena in Tel Aviv. "We will wait for the final results, we talked to the chiefs of the relevant parties and we will wait. But I promise to make every effort to form a government dedicated to social issues in Israel."

The Zionist Union leader, who had been leading in the polls ahead of Election Day, said the faction and its supporters "had achieved something exceptional" and thanked his co-chief, Tzipi Livni: "We would not have reached this moment without the wonderful partnership with Tzipi Livni."

In Tel Aviv, the Kulanu party's headquarters erupted in jubilation following the release of exit polls that showed Moshe Kahlon's fledgling party winning 9-10 seats in the 20th Knesset.

Activists welcomed the promising results with cries of "The next finance minister!"

Kulanu chief Moshe Kahlon said he would recommend to President Rivlin whichever candidate chooses a social agenda. I said this throughout the campaign. Netanyahu and Herzog asked to speak to me. I did not initiate the talks – I am waiting for the final tallies. We will wait, and then speak."

He added: "I will sit in a social government that will provide an answer for the crises facing the public. It is unfortunate that the small factions almost collapsed. As has been said before – there is no middle class."

After receiving between 11 and 12 seats in the exit polls, Yesh Atid chief Yair Lapid said that "our achievement tonight was proof to those who needed evidence that Yesh Atid is a force that cannot be ignored in Israeli society."

He stressed that "only when the smoke clear tonight, people will begin to internalize the size of our achievement. Tomorrow morning we start from where we had stopped."

Bayit Yehudi leader Naftali Bennett wasn't concerned with the fact exit polls showed his party would drop from the 12 seats it had in the 19th Knesset to only 8 seats in the 20th Knesset.

"We're in this for the long haul. We're not afraid and we won't give up. We love the people of Israel, we love the land of Israel, we love Israel's Torah and the soldiers of the Israel Defense Force," Bennett told activists at the party's headquarters, adding he was not disappointed with his voters, "on the contrary, I'm proud of the religious Zionism."

Aryeh Deri, who represents one of the historic haredi factions, said Tuesday that "this was the hardest campaign" that Shas endured.

"I am telling you with certainty," he continued, "any other party that would have undergone half of the breakdowns we endured in the past year would not have survived, would have broken down, would have collapsed. Maran (Rabbi Ovadia Yosef) stood by us."

Yisrael Beytenu chief Avigdor Lieberman addressed his supporters after Israeli television channels released their exit polls. "I have been through several election campaigns – this one was impossible. I am sure that any other faction would not have survived it. We faced massive forced from outside the political system."

He stressed that "many outsiders worked in unison to take out an entire faction, but they did not succeed and they will not succeed. We need to think not in terms of what is good for a party but what is good for the State of Israel. It is clear to me that we need to change our system of governance."

Yisrael Beytenu's Sharon Gal, who will be entering the Knesset for the first time, said: "They couldn't eliminate the party, and that's what's important. I believe that in the real results we'll win more seats."

Activists at Eil Yishai's Yachad party headquarters were disappointed with exit polls, as most of them showed the party failed to pass the threshold. The only exit poll that showed Yachad entering the Knesset was Channel 20's poll.

Two other parties that were close to being left outside the Knesset are Meretz and Yisrael Beytenu, but activists at both camps were relieved to hear that exit polls predicted 5 seats for each party - just over the threshold.

Meretz Chairman Zehava Gal-On sounded emotional, saying her party "made it despite all odds."

She praised head of the Zionist Union Isaac Herzog who she hoped would lead the next government, and said "I call on him not to go to a unity government" with Netanyahu.

"We will recommend Herzog to the president for the premiership of a center-left government. (Netanyahu) does not deserve to be prime minister."

After coming in a suprise third place in the exit polls, Joint Arab List MK Ahmed Tibi said that "the general results are contrary to the expectations and a dissapointment. We thought the Israeli public would want to go in the direction to change the grim social-poltical-economic reality. A unity government is the worst option of all."

Regarding comments made earlier Tuesday by Prime Minister Benjamin Netanyahu who warned a large Arab turnout would harm the Likud, Tibi said: "To scare the public from participation of citizens in the elections just because they are Arab - imagine the prime minister of France or Sweden saying this about Jewish voters. It is embarrassing and racist at the least and he should be ashamed he said that sentence."