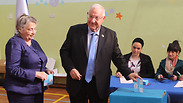 President Rivlin votes in the 2015 election.
Photo: Gil Yohanan
Sources close to President Reuven Rivlin said Tuesday that "the right choice in his eyes is a unity government that will be a strong government; however, if the sides are not interested in this he will not force it."

The sources added that according to the exit polls, "the president reads and understands that Netanyahu has the ability to form a coalition very quickly."

With exit polls putting the Likud and the Zionist Union in a tie with roughly 27 Knesset seats each, the political process of coalition building now begins for Likud leader Benjamin Netanyahu and Zionist Union's Isaac Herzog, who both hope to attain a majority of 61 Knesset seats or higher.



Head of the Kulanu party, Moshe Kahlon received phone calls from both Netanyahu and Herzog who attempted to secure his endorsement for the post of prime minister. Kahlon, who exit polls gave around 10 seats and is poised to be kingmaker, said he would not commit to either side - waiting for the final results to come in.




Kahlon said he would recommend to President Rivlin whichever candidate chooses a social agenda. I said this throughout the campaign. Netanyahu and Herzog asked to speak to me. I did not initiate the talks – I am waiting for the final tallies. We will wait, and then speak."

He added: "I will sit in a social government that will provide an answer for the crises facing the public. It is unfortunate that the small factions almost collapsed. As has been said before – there is no middle class."

Israelis vote for parties, not individual candidates. No party has ever won a majority in the 120-member parliament, so after an election, it can take weeks of negotiations to form a governing coalition.

Several smaller centrist and religious parties that have not pledged support for either Netanyahu or Herzog will likely tip the scales to determine who will become prime minister.

Exit polls set Kahlon to be kingmaker along with Yesh Atid's Yair Lapid – who has already hinted he will throw his support behind Herzog.

Another force in the process is Shas – an ultra-orthodox party with Sephardic voters. The party has historically gone right, but its strong focus on social and welfare issues could send it Herzog's way.

Both Netanyahu and Zionist Union leader Isaac Herzog both called Shas leader Aryeh Deri on Tuesday evening to request a meeting to discuss a future coalition.

Deri agreed to meet with Netanyahu on Wednesday and to speak with Herzog on Wednesday. However he refused to meet Netanyahu Tuesday night, like the incumbent prime minister had wanted, indicating he is reluctant to support the Likud leader for the top spot.

Netanyahu also called Bayit Yehudi chairman Naftali Bennett after the publication of the exit polls. During the election, Bennett and Netanyahu fought over right wing votes, but have remained committed to one another.

On the phone, Bennett congratulated Netanyahu for winning the election and the two agreed to begin negotiations to form a right-wing government.

Before casting his own vote Netanyahu said "My first phone call will be to Bennett so he would form a national government with me, a bloc of the national camp."

The Zionist Union responded to exit polls and said that despite being tied with the Likud they would work to form the next government.

"The Likud is mistaken – the right wing bloc has shrunk. Everything is still open until the final results, only then will we be able to know which parties actually passed the threshold and we'll know what government can be formed," they said in a statement.

"Our negotiation team to form the next government with Herzog at its head is already being formed," they said, adding that talks will begin soon.