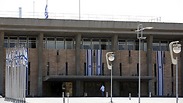 Knesset in Jerusalem
Photo: Gil Yohanan
After a stormy night, Israelis will wake up on Wednesday to an election surprise, after exit polls from Tuesday shockingly misread the political map. With the electoral shock subsiding, several factions can look forward to having members sworn into the next Knesset, who had previously been competing in "unrealistic" spots on their parties' lists.
The Likud list has grown dramatically, while more than half of the Yesh Atid delegation has lost their position in the Israeli parliament.
Kulanu will bring in 10 new members with the lists of Shas, Bayit Yehudi, and the Joint Arab List also experiencing several shake-ups.
A count of 99 percent of the ballot boxes had Likud with 29 seats and Zionist Union with 24. The Joint Arab List placed third behind the two major parties with 14 seats ahead of Yesh Atid's 11 seats.
Moshe Kahlon, lauded as this election cycle's kingmaker, received 10 seats in the count, with Bayit Yehudi maintaining its eight seats, Yisrael Beytenu with six seats, United Torah Judaism and Shas at 7, Meretz dropping to 4.