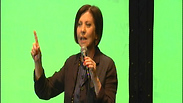 Zehava Galon: The responsibility is mine.
Meretz Chairwoman Zehava Gal-On announced Wednesday morning that she was stepping down as party leader, citing the poor performance in Tuesday's national elections.
"Meretz has passed the threshold but received only four seats, according to the final results at this time. We can all see the overall picture clearly," she wrote on her Facebook page.
"I said during the campaign that if Meretz succeeded it would be everyone's success, but if Meretz failed to meet expectations I was the address and I would take personal responsibility. Therefore this morning I announced that I was resigning and relinquishing my seat in the Knesset so that my colleague Tamar Zandberg can enter in my place. I will not run for the leadership of Meretz again, and will remain as Meretz chair until an orderly handover can take place in the near future."
Gal-On had earlier said she would retire to make way for Zandberg – the fifth-placed candidate on the left-wing party's list – if the final election results left the party with only four seats.
Gal-On said shortly before 7 am that "if the final tallies show that Meretz stands on four mandates I will resign from the Knesset for Tami Zandberg and stay on as chairwoman until an orderly transfer of power occurs."
By the early morning hours, a count of 99 percent of the ballot boxes placed Likud with 29 seats and Zionist Union with 24. The Joint Arab List placed third behind the two major parties with 14 seats ahead of Yesh Atid's 11 seats.
Moshe Kahlon, lauded as this election cycle's kingmaker, received 10 seats in the count, with Bayit Yehudi maintaining its eight seats, United Torah Judaism and Shas at seven, and Yisrael Beytenu with six seats; Meretz dropped to 4 seats.