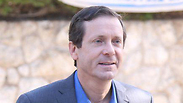 Isaac Herzog on Wednesday morning
Photo: Motti Kimchi
Prime Minister Benjamin Netanyahu "intends to immediately begin forming a government in order to complete this task within two to three weeks" following his election victory, a Likud statement said Wednesday morning, adding that he had met with various party leaders.

"Reality will not wait for us," Netanyahu said. "Reality will not take a time out. The citizens of Israel expect us to quickly put together a leadership that will work for them regarding security, economy and society as we committed to do - and we will do so."

Meanwhile, Zionist Union Chairman Isaac Herzog, Netanyahu's main rival in the elections, said he had spoken with Netanyahu to congratulate him on his election victory.

"A few minutes ago I spoke with Prime Minister Benjamin Netanyahu and congratulated him on his achievement and wished him luck," Herzog told reporters.

He said his center-left Zionist Union party would continue to be an alternative to Netanyahu's right-wing Likud. "I think that right now what Israel needs most of all is another voice, a voice that provides an alternative and a voice that still tells the truth -- our real truth, a truth that received truly huge support, a truth that has not won such support in nearly a generation," said Herzog.

Herzog warned that the problems Israel faced still existed and pledged to keep working for the benefit of the country. He vowed that his party would continue to fight for social justice and democracy.

,

Bayit Yehudi Chairman Naftali Bennett, whose party's eight seats were fewer than expected, said that it was "a wonderful morning for the Israeli people. This is not a right-wing government that has been elected, but a government for all the Israeli people."

Bennett said his party had many tasks, including maintaining security, safeguarding Israel's Jewish character, and taking care of the economy. "We will form a government that will deal with these huge issues and with the help of God we will succeed," he added.

MK Dov Khenin of the Joint Arab List, which garnered 14 seats, said that "a prime minister who runs an election campaign based on incitement against citizens who vote is a prime minister who cannot keep his position. The Joint Arab List id the third most powerful force in the Knesset and we intend to use that power."

Kulanu Chairman Moshe Kahlon, whose party attained 10 seats, said he was pleased with results. "It was a very difficult fight. Regarding the rest of the results, they're undoubtedly dramatic – no one predicted this," said Kahlon. We will demand and require housing solutions for young couples, and I am saying this with the campaign behind me. We will continue on our social path – caring for the middle class, caring for the weak, and caring for the elderly. That's why we formed Kulanu – not in order to crown anyone or to depose anyone."

Yisrael Beytenu Chairman Avigdor Lieberman, whose party received six seats – down from 11 in the previous elections – said the prime minister deserved congratulations for "a most impressive and extraordinary accomplishment. I think the people have spoken.

"Our demands are clear – we did not hide them and we put them in writing, including the defense portfolio. We do not aim to be in the opposition, but we will not join a coalition if it doesn't meet certain demands."

Meanwhile, White House spokesman Josh Earnest said late Tuesday that President Barack Obama is confident that the strong US-Israeli ties will endure far beyond the Israeli elections, regardless of the victor.

Roi Yanovsky, Itay Blumenthal and AFP contributed to this report.