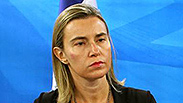 EU foreign policy chief Federica Mogherini
Photo: Amit Shabi
The European Union is committed to working with the new Israeli government on relaunching a peace process with the Palestinians, EU foreign policy chief Federica Mogherini said on Wednesday.

Prime Minister Benjamin Netanyahu won a come-from-behind victory in Israel's election after tacking hard to the right in the final days of campaigning, including abandoning a commitment to negotiate a Palestinian state.

"The EU is committed to working with the incoming Israeli government on a mutually beneficial relationship as well as on the re-launch of the peace process," Mogherini said in a statement, congratulating Netanyahu on his win.

"We are at a crucial moment, with many threats all over the Middle East. The EU staunchly supports a peaceful resolution of the Israeli-Palestinian conflict, in the interest of the Israeli people, of the Palestinian people and of the whole region. We are at your side, you can count on us," Mogherini assured, calling on a "bold leadership" to reach "a comprehensive, stable and viable settlement of a conflict that has already deprived too many generations of peace and security."

"It's time to turn this page and I'm confident that we can work together with the international community for a solution that will guarantee peace and security in the Middle East," she added.

On Monday, a day before the elections, Netanyahu, who previously hinted that he would accept a Palestinian state, reversed course, citing risks that he linked to the regional spread of Islamist militancy. He said that if he is re-elected, the Palestinians would not get the independent state they seek in the West Bank, East Jerusalem and Gaza.

"Whoever moves to establish a Palestinian state or intends to withdraw from territory is simply yielding territory for radical Islamic terrorist attacks against Israel," he told the Israeli news site NRG.

Asked if that meant a state would not be established if he remained prime minister, he said: "Indeed."

At a visit to East Jerusalem neighborhood Har Homa on Monday, Netanyahu vowed to preserve Jerusalem's unity "in all its parts" and said he would "continue to build and fortify" the city to prevent any future division.

On Wednesday, Palestinian leaders called for international pressure on Israel and support for their unilateral moves toward statehood, after they were left with grim prospects for a negotiated solution in light of Netanyahu's win and his statements that he would not allow the formation of a Palestinian state.

"It is clear Israel has voted for burying the peace process, against the two-state choice and for the continuation of occupation and settlement," Saeb Erekat, chief Palestinian negotiator in talks with Israel that collapsed in April, told Voice of Palestine radio.

Erekat said in a statement that Netanyahu's win showed "the success of a campaign based on settlements, racism, apartheid and the denial of the fundamental rights of the Palestinian people".

Israeli citizens, senior PLO official Yasser Abed Rabbo told AFP, chose "occupation and settlement building" over peace talks.

"We are facing an Israeli society that is sick with racism, and a policy of occupation and settlement building... and ahead of us is a long and difficult road of struggle against Israel," Abed Rabbo said.

Palestinian leaders said a fourth term for the Likud party leader meant they must press forward with unilateral steps toward independence, including filing charges against Israel at the International Criminal Court.

"This makes it more necessary than ever to go to the international community, and to go to the ICC and escalate peaceful resistance and boycott against the occupation," Wasel Abu Youssef, a Palestine Liberation Organization leader, told Reuters.

The Palestinians are due to become ICC members on April 1, and say they would turn to the court in a request to investigate alleged Israeli war crimes as early as next month.

Erekat called in a statement on the international community to back Palestinian efforts "to internationalize our struggle for dignity and freedom through the International Criminal Court and through all other peaceful means".

Netanyahu's stand against a Palestinian state had already threatened to strain ties with the United States and Europe.

The parliaments of several European countries, including Britain and France, have called on their governments to recognize an independent state of Palestine in the past year, reflecting exasperation at continued settlement building on disputed land. Sweden formally recognized Palestine in October.

Netanyahu, who in 2009 had endorsed the two-state solution, seemed on course to form a coalition government leaning further to the right than his outgoing cabinet, which had included two centrist parties and engaged in the US-brokered peace talks.

In his new coalition, Netanyahu is expected to include his natural allies, religious and far-right parties, as well as one centrist party which campaigned on internal social-economic issues rather than on matters of war and peace.

Adding to Palestinian frustration is Israel's January decision to withhold $127 million tax revenues it collects on behalf of the Palestinian Authority, a retaliatory step after the Palestinians moved to join the ICC.

Though Israeli officials have indicated no imminent change, Gaza-based political analyst Hani Habeeb said Netanyahu may unfreeze the funds, which cover around two-thirds of the Palestinian budget, now that the election is over.

"I do not rule out Netanyahu releasing the PA tax revenues to improve his (international) image," Habeeb said. "He used it as a card during the election campaign and now he won."

Erekat suggested the Palestinians may press on with their pledge this month to suspend security coordination with Israel, a move that could have an immediate impact on stability in the West Bank.

But Nabil Abu Rdainah, spokesman for President Mahmoud Abbas, did not close the door completely on negotiations with Israel.

"We are not bothered by who is head of government in Israel, what we want from the Israeli government is to recognise the two-state solution and that east Jerusalem be the capital of the state of Palestine," he said.

Moran Azulay, AFP and Ynetnews staff contributed to this report.