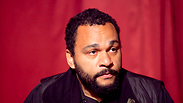 A French comedian was found guilty on Wednesday of condoning terrorism by posting a joke on his Facebook account after Islamist attacks in Paris that killed 17 people in January, but escaped a possible jail sentence.

The Paris court sentenced Dieudonne M'bala M'bala to a suspended sentence of two months in jail. He had risked up to 7 years in prison and a potential 100,000 euro ($106,000) fine.

Dieudonne, who has repeatedly been fined by the courts for hate speech, wrote on Facebook just days after the attacks that he felt "like Charlie Coulibaly".

That was a play on the ubiquitous "I am Charlie" slogan of solidarity following the attack against cartoonists at Charlie Hebdo weekly, using the last name of one of the Paris attackers.

Amedy Coulibaly killed a policewoman a day after the Charlie Hebdo attack and four Jews in a raid on a Parisian kosher supermarket two days later. He died in a shootout with police at the shop.

"The feeling of hostility towards the Jewish community that Dieudonne kept up in front of a public attracted by his charisma increases his responsibility," the court wrote.

Dieudonne, who was not in the court on Wednesday, has been found guilty seven times for slander or anti-Semitic statements, while his shows have been banned in some cities as a threat to public order.

Lawyer Muriel Ouaknine-Melki said Wednesday that the words provoked "emotion and indignation in the heart of the whole French community."

The comedian, who insists he is not anti-Semitic, is credited with inventing the "quenelle", a gesture critics have likened to an inverted Nazi salute.

Dieudonne posted his Facebook comment on the eve of a huge public march of solidarity in Paris in which more than 3.7 million people, many carrying "I am Charlie" signs, honored the journalists, policemen and shoppers killed by the militant Islamist gunmen.

Reuters and the Associated Press contributed to this report.