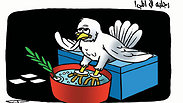 Cartoon reflecting pessimism about peace
While Arab media outlets have lately focused on the unending crises in the region – in Syria, Yemen, Iraq, Libya, and Egypt, among others – they turned their attention to Israel on Wednesday to cover the results of Israel's elections for the 20th Knesset.

Hezbollah mouthpiece Al Akhbar recognized on Tuesday that Netanyahu had emerged victorious, even before the vote count showed Likud with a solid lead. "Israel has clung to radicalism," the paper wrote, arguing that this was the clearest outcome of the election.

"In all scenarios, the formation of this or that government does not much change Israel's foreign policy or the situation in the region, especially when there is a broad consensus among the Zionist parties regarding the Palestinian question."

Egyptian news site Al Youm Al Sabaa ran a headline Wednesday morning declaring that Netanyahu had dealt a "death blow" to the Zionist Union. "The new government will be radically right and dominated by religious parties," it wrote.

Jordanian newspaper Al Arab Al Youm, Al Arabiya's news site, Al Jazeera, and Kuwaiti newspaper Al Rai all reported that Likud had won the election.

Alongside the reports of Netanyahu's victory, Arab media outlets extensively covered the achievement of the Joint Arab List, which won 13 seats, making it the third-largest party.

"For the first time, the Arabs are the third-largest party in Israel's Knesset," wrote newspaper Asharq Al-Aswat, published in London. Some publications used headlines that reported both Netanyahu's win and the Arab list's success.

"Netanyahu wins a crushing victory over the Zionist Union, and the Joint Arab List is the third-largest party in the Knesset," wrote the online edition of Lebanese newspaper An-Nahar.

Arab media outlets could not ignore Netanyahu's declaration on Tuesday, as voting occurred, that "Arabs are streaming to the polling stations in droves."

"The Arab voters scare Netanyahu," wrote Saudi newspaper Al Watan. "There was incitement against Palestinians in order to increase the voter turnout among the Jews," wrote Al-Araby Al-Jadeed, published in London.

Palestinian Authority newspaper Al Ayyam published a cartoon on Wednesday depicting a dove sitting on a ballot box with its feet in a tub of water, which also contains an olive branch. "His feet is in the water," read the caption.

Arab politicians and personages also expressed their opinions about the results. Talal Arslan, a Druze member of Lebanon's parliament, congratulated the Arab citizens of Israel for "the distinguished results achieved by the 1948 Arabs in Palestine in parliamentary elections." He added that "this is the beginning of a historic turning point in the region." Last week, the most prominent Druze leader in Lebanon, Walid Jumblatt, called on the Druze community in Israel to vote for the Joint Arab List, saying it was a golden opportunity to strengthen the Arab community in Israel.

Mohammed ElBaradei, former chairman of the International Atomic Energy Agency, took to Twitter after the election results were announced, saying: "Israel elections outcome dash hopes of peace & stability in ME. Current peace process becoming a delusion. A depressing & grim outlook." He added that "when Israel votes for occupation as only choice, what options left 4 all those who spent decades betting on and working 4 a peace settlement".

An official from a Gulf Arab state told Reuters on Wednesday that Netanyahu owed his win to Israeli security fears, notably about Iran's growing regional influence. "With Iran emerging again, it was highly expected that Netanyahu would win," said the official. "He's a man who believes strongly in protecting his people, and this is what Israel wants now."

"On the one hand, there's pessimism about Netanyahu's declared policies not to divide Jerusalem and not to establish a Palestinian state," said Sami al-Faraj, a Kuwaiti security advisor to the Gulf Cooperation Council (GCC). "On the other, there's a feeling in the Gulf that some of his tough stances could be loosened later, especially if there is a convergence of views in the region around Iran."

Khaled al-Maeena, a veteran Saudi journalist and political analyst, told Reuters about Netanyahu: "Here is a man who destroyed Gaza and said there would be no Palestinian state. So this does not make us feel there will be happy times ahead. He's bent on destruction."