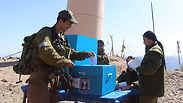 IDF soldiers vote
Photo: IDF Spokesman
The counting of all 230,000 "double envelope" votes -- which come from soldiers, hospital patients, prisoners, women in domestic violence shelters, polling station workers and Israeli diplomats overseas – resulted in Likud securing its 30th seat and Meretz adding a fifth on Thursday. The results show some differences from the general vote.

Bayit Yehudi, for example, enjoyed nearly double the support than in the general population. Likud and the Zionist Union both received higher support as well.

The Ale Yarok (Green Leaf) party, which emphasizes legalization of cannabis in its platform, received 8,472 votes – 3.64 percent of the total. Fewer than 40,000 people in the general population voted for the party, making it 90,000 votes short of the 3.25 percent election threshold.

Bayit Yehudi garnered 41,202 "double envelope" votes – 12.4 percent – compared to 6.7 percent of the general population for Naftali Bennett's party, which dropped to eight seats in the election. Benjamin Netanyahu's governing Likud party led the pack among "double envelope" voters with more than a quarter, while Isaac Herzog's Zionist Union got 17.7 percent of the votes.

The voter turnout in the elections reached 72.3 percent following the counting of the "double envelope" votes, said the Central Elections Committee. A total of 4,253,336 votes were cast, although 43,869 were disqualified. Likud, which had teetered between 29 and 30 seats, received more than 50,000 votes from this updated count, securing a spot in the Knesset for Oren Hazan.

Of the 4,209,467 valid votes, 4,017,890 went to parties who succeeded in passing the threshold, meaning 191,577 votes went to parties that will not enter the Knesset. The election threshold of 3.25 percent translated to 136,808 votes, the minimum amount of ballots a party needs to enter the Knesset.

Four seats were assigned based on vote-sharing agreements – deals signed between parties to allow surplus votes that do not add up to a seat to be "donated" to the larger of the parties. The following parties thus received an extra seat from smaller parties' surplus votes: The Zionist Union from Meretz, Shas from United Torah Judaism, Likud from Bayit Yehudi, and Kulanu from Yisrael Beytenu.