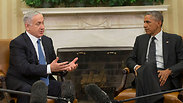 Netanyahu and Obama at White House
Photo: AFP
Despite Prime Minister Benjamin Netanyahu's attempts to backtrack from hard-line statements against the establishment of a Palestinian state, the White House on Thursday pointedly raised the prospect of withdrawing crucial diplomatic cover for Israel at the United Nations.
Earlier Thursday, Netanyahu denied he had abandoned his commitment to creating a Palestinian state, but said current political conditions made that possibility more remote.
"I don't want a one-state solution. I want a sustainable, peaceful two-state solution. But for that, circumstances have to change," Netanyahu said in an interview on MSNBC, appearing to back away from comments he made during the Israeli election campaign that drew heavy US criticism.
"Steps that the United States has taken at the United Nations had been predicated on this idea that the two-state solution is the best outcome, said spokesman Josh Earnest.
"Now our ally in these talks has said that they are no longer committed to that solution. That means we need to reevaluate our position in this matter, and that is what we will do moving forward."
White House spokesman Josh Earnest told reporters it is clear that Netanyahu during his campaign walked back from his previous commitment to a two-state solution with Palestinians.
Earnest said, however, that the US remains committed to continuing cooperation on military intelligence and security with Israel.
In the interview, Netanyahu said: "I haven't changed my policy. I never retracted my speech in Bar-Ilan University six years ago calling for a demilitarized Palestinian state that recognizes the Jewish state."
The prime minister also pointed to the presence of hostile Islamic groups across the region and said that any captured territory handed over to Abbas would be taken over by militants. Hamas seized control of the Gaza Strip in 2007, shortly after Israeli withdrew.
A day before the election Netanyahu told the nrg news website that a Palestinian state would not be established on his watch because of the current climate in the region.
"Whoever ignores that is burying his head in the sand. The left is doing that, burying its head in the sand time after time," he said in the video interview. When asked if that means a Palestinian state will not be established if he is elected, Netanyahu replied, "Indeed."
In another signal that the US administration is looking to turn up the heat on Netanyahu, the White House is sending Obama's chief of staff, Denis McDonough, to address the liberal pro-Israel U.S.-based group J Street on Monday. The group, a proponent of two states side by side, opposed Netanyahu in the election campaign.
"US-Israel ties remain strong"
The prime minister made attempts to affirm his country's strong ties with the United States on Thursday after tensions in the run-up to his election victory, saying Israel has "no greater ally."

"There are so many areas where we must work together with the United States," Netanyahu said in an interview with NBC. "America has no greater ally than Israel and Israel has no greater ally than the United States."

Netanyahu won a bitterly contested Israeli election this week after shifting to the right in the final days of campaigning.

"We can have differences, but we have so many things that unite us. We have a situation in the Middle East that is very dangerous, that presents a common challenge," Netanyahu told the network.

In the NBC interview, Netanyahu dismissed allegations he was racist, after he said during Election Day that the high Arab voter turnout was endangering his right wing party's dominance.

"I'm not," he said.

Netanyahu said he had not yet spoken to US President Barack Obama, but he was sure they would speak soon, according to NBC.

Secretary of State John Kerry called Netanyahu on Wednesday to congratulate him. Obama will follow suit "in coming days," White House spokesman Josh Earnest said. He said that after previous elections Obama had waited a similar amount of time, holding off until Netanyahu was formally given the go-ahead to form a coalition.

Netanyahu's insistence that there will be no Palestinian state while he holds office, seen as a maneuver to mobilize his right-wing base, angered the Palestinians and drew criticism from the United Nations and European governments. Chances for restarting long-stalled peace moves already had been low.

US lawmakers were divided on Netanyahu's hardened stance.

"It was remarkable to back-track so significantly on a two-state solution," said Democratic US Senator Chris Murphy, adding it could make Washington's effort to mediate more difficult.

Republican Senator Lindsey Graham said he hoped the United States and Israel would see the election as "an opportunity to start over." But he said: "A two-state solution is impossible as long as Hamas exists and runs Gaza."

News agencies contributed to this report.