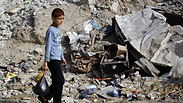 Cement arrives for Gaza reconstruction.
Photo: AFP
Israeli authorities allowed 1,000 tons of cement paid for by Qatar to enter the Gaza Strip Thursday, officials said, in the first serious step towards rebuilding the territory.

A 50-day war last summer between Israel and Hamas, which controls Gaza, decimated entire neighborhoods and left 100,000 people homeless.

The international community has warned that without serious and immediate reconstruction efforts, another conflict is just around the corner.

"Today 1,000 tons of cement paid for by Qatar entered the Gaza Strip for a project included in the scope of the reconstruction mechanism," Israel's coordinating body for government policy in the Palestinian territories (COGAT) said in a statement.

"There are no fixed quantities (going in) on a daily basis. The quantities (delivered) are at the request of the Palestinian Authority in accordance with the needs of suppliers who are purchasing in Gaza," it said.

Palestinian officials confirmed the entry of cement, which they said 175 trucks brought in through the Kerem Shalom goods crossing in southern Gaza.

It was the biggest quantity of building material to come into Gaza in one go since fighting ended in August.

Palestinian officials say the same quantity will need to enter Gaza each day in order to repair damage within three years.

Qatar last week launched a project to built 1,000 homes to house displaced Gazans.

The Gulf state in October made the biggest single pledge to rebuild Gaza, promising $1 billion of a total of $5.4 billion in international aid at a conference in Cairo.

The UN last month slammed the international community for failing to make good on its promises of aid, warning of another conflict unless Gaza was rehabilitated quickly.

Israel controls goods and people movement at two of Gaza's three crossings, while Egypt controls the third.