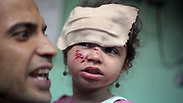 Aftermath of attack at UNRA school in Jabalia.
Photo: AP
The Judge Advocate General's Office, headed by General Danny Efroni, said Thursday that is has decided to open a criminal investigation into six unusual events that took place during Operation Protective Edge - the most prominent is an IDF attack on an UNRWA school in the Gazan city of Jabalia which led to the death of 20 Palestinians.
The six events were part of 65 events that were referred to the Judge Advocate General's Office for review.
The IDF relayed in a message that, "Findings were presented before the JAG and set reasonable grounds to suspect that the attack was not in accordance with the principles that apply to the IDF and therefore the JAG decided to initiate a police investigation into the case."
In addition, the IDF also announced it would open a criminal investigation into three incidents where Gazan detainees were reportedly beaten and two incidents of looting.
The message released by the IDF mentioned two events that occurred on July 23, in which residents of Khuza'a claimed that while they were blind-folded and hand-cuffed they were beaten by IDF soldiers for no reason.
Another investigation was opened after an appeal by two residents of Rafah who also claimed they were beaten while hand-cuffed and blind-folded.
The JAG also ordered a criminal investigation into reported looting in Deir al-Balah and Khan Yunis.
A resident of Deir al-Balah said that IDF soldiers stole property from his home after he fled the home with his family. A man in Khan Yunis reported a similar incident.
The military's Criminal Investigations Division (CID) had begun to probe numerous IDF officers in December suspected of criminal offenses that led to the deaths of scores of non-combatant Palestinians during Operation Protective Edge.
At the time, General Efroni decided to expand investigations into IDF officers regarding a series of incidents in which 50 Palestinians were killed.
A source familiar with the investigation told Ynet in December that military police collected different pieces of evidence that bolster suspicions against the officers.
The most potentially controversial issue that reached Efroni's desk regarded the events of August 1 in Rafah, which included the aggressive pursuit by Givati soldiers of Hamas member who took captive IDF soldier Lt. Hadar Goldin. Scores of Palestinians were killed that day and hundreds wounded. Investigators assigned a special team to the case.
Efroni was tasked with deciding whether to open an investigation into Givati leaders, including Col. Ofer Winter, Lt. Col. Eli Gino, and company commanders.