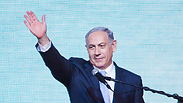 Prime Minister Netanyahu
Photo: AP
Prime Minister Benjamin Netanyahu attempted to play down his pre-election rejection of the two-state resolution to the Israeli-Palestinian conflict, explaining he did not backtrack on a major 2009 policy speech, but only that he thought conditions were not ripe for a Palestinian state.

Supporters and naysayers alike have attempted to blow the speech off as an election ploy, but the White House said it warranted a "reassessment" by the US of its role. To counter the fallout from his comments, Netanyahu launched a US counter-offensive by stressing his support for the two-state solution to MSNBC, a liberal television channel known to be supportive of President Barack Obama.

Speaking to NPR in an interview broadcast Friday, Netanyahu offered some clarification about the two seemingly contradictory statements.

"What I said was that under the present circumstances… it's unachievable because I had laid out very clearly what my conditions were for a two-state solution in the 2009 speech I gave at Bar-Ilan University. And I haven't changed; I haven't retracted that speech, at all.

"I said that the implementation of that vision is not relevant right now," Netanyahu said, citing "the decision of the leadership of the Palestinian Authority last year to forge a pact with Hamas" and recent changes in the Middle East – namely the Syrian civil war and ISIS, but also Iranian control over Gaza.

Netanyahu then referenced the 2005 Israeli disengagement from Gaza Strip, saying "We vacated and we didn't get peace." However, the brave unilateral step undertaken by iconic Israeli leader Arik Sharon occured long before the Arab Spring and was unrelated to the radicalization of Islam in the region, suggesting Netanyahu was just attempting to placate the Obama administration.

"I don't want a one-state solution. But I certainly don't want a zero-state solution, a no-state solution, where Israel's very existence would be jeopardized. And that's what the people of Israel overwhelmingly elected me to do," Netanyahu stressed..

Elaborating on the issues facing a long term peace deal, Netanyahu blew off criticism of his settlements construction beyond the Green Line, saying the "critical problem we have is not merely where the borders will be but what will be on the other side of the border.

"Do we walk out and the Islamists walk in, backed by Iran, as happened in Gaza, as happened in Lebanon, as is happening in other parts of the Middle East. They're either backed by Iran or they're backed by al-Qaeda or, if you will, by ISIS.

As part of his pre-election right-wing television blitz, Netanyahu also said Israel's Arab minority was being mobilized by left-wing groups to vote against him, an accusation that drew charges of racism from opponents and which White House spokesman Josh Earnest called "divisive".

"I wasn't trying to block anyone from voting. I was trying to mobilize my own forces. And that mobilization was based on Arab money – sorry, on foreign money, a lot of foreign money that was coming in," he said, echoing conspiratorial claims regarding intervention by foreign government in Israel's elections.

"I'm the prime minister of all of Israel's citizens, Jews and Arabs, alike," he said.
Tough ties
President Barack Obama's phone call with Prime Minister Benjamin Netanyahu was "tough", Israeli sources said days after Netanyahu won Israel's election on the backdrop of unprecedented tensions between Jerusalem and the White House.

Meanwhile, Republican John Boehner, the speaker of the US Congress and an ardent backer of Netanyahu, announced he will visit Israel at the end of this month, diplomatic sources said on Friday.

On Thursday, Obama called Netanyahu to congratulate him on his reelection, while stressing US commitment to a two-state solution in Israel.