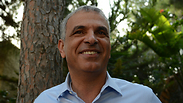 Kingmaker Kahlon
Photo: George Ginsburg
Kulanu chief Moshe Kahlon insisted on Friday that joining Prime Minister Benjamin Netanyahu's coalition was not a foregone conclusion. "Not one of us is born inside the government and not one of us must sit there."

In a Facebook post, Kahlon wrote that Kulanu "is a faction with a mission. The results of the election were clear but our mission was and remains essential. It is our intention to come to the negotiations table with what we promised the public."

The former Likud minister, once again a rising star in Israeli politics, stressed that his party "did not come to rant or occupy a seat. We came to make a difference, to solve problems, to fix the Israeli society."

Ynet's political correspondent Moran Azulay revealed on Thursday that Kahlon's representatives had begun unofficial talks with the Likud on Wednesday, after the results of the election were announced.

Kahlon has yet to talk to the press since the election but continued to say behind closed doors that he would only enter a coalition on the condition it is based on the policies he has laid out in recent months.

Aside from the campaign he ran for control of the Finance Ministry, Kahlon will ask Netanyahu for two additional portfolios – the Defense Ministry for his deputy, Yoav Galant, and an unnamed ministry for poverty expert Eli Alaluf.

The kingmaker of the 2015 cycle will likely also demand key positions on the major Knesset committees that would help his work as finance minister – like the Finance and Economic Affairs Committees.

Kulanu will further insist that the Israel Lands Administration be transferred under Kahlon's control in order to solve the dire housing crisis.

To assert control over the Finance Committee, Kahlon must fend off United Torah Judaism, which was set on returning MK Moshe Gafni to the chair of that key committee. As an experienced politician, the Kulanu chief knows he requires the committee to have a real possibility of implementing reforms.

Kahlon is further expected to attempt a reform of the banking sector, as he promised during the campaign. His statements suggest that he considers the socio-economic issues – with special emphasis on housing and banking – to be his minimum terms for entering the government.