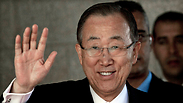 UN leader Ban Ki-moon
Photo: AP
UN Secretary-General Ban Ki-moon called Prime Minister Benjamin Netanyahu on Friday to congratulate him for his re-election victory and to urge the Likud leader to renew his commitment to a "two-state solution" to the Israeli-Palestinian conflict.

Netanyahu won re-election this week after a close-fought parliamentary campaign in which he toughened his stance, vowing he would thwart the creation of a Palestinian state.

Since winning the vote – and amid a storm of international criticism – Netanyahu has tried to walk back his remarks, protesting in US media interviews that his position has not changed.

But Ban still felt the need to remind Netanyahu of his previous commitments to a negotiated settlement with the Palestinians that would see two states living side-by-side.

"The secretary-general reiterated his view that the two-state solution was the only way forward and urged the prime minister to renew Israel's commitment to that goal," Ban's spokesman said.

"The secretary-general also urged the prime minister to release the tax revenue currently held by Israel but owed to the Palestinian Authority," the statement added.

Earlier in the week, UN spokesperson Farhan Haq told reporters that the new Israeli government must engage with the international community and foster the conditions necessary for a resolution to the conflict, including the freezing of settlement building on lands Palestinians hope to make part of their state.

Netanyahu's rhetoric also has also drawn a rebuke from Israel's steadfast ally Washington and the White House warned it may reconsider its stance on advancing the peace process.

AFP contributed to this report.