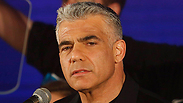 Yesh Atid leader Lapid
Photo: EPA
Yesh Atid Chairman Yair Lapid called on Prime Minister Benjamin Netanyahu on Saturday not to appoint Shas Chairman Aryeh Deri to a senior ministerial position in the next government, citing the Shas leader's conviction in 1999 of bribery.
In a post on his Facebook page, Lapid wrote: "Mr. prime minister, you scored a big victory in the elections. If that is what the public has chosen, that is what should be, and now we must all – both opposition and coalition – return to work for the State of Israel."
Addressing Netanayhu, Lapid wrote: "Are you at peace with the idea that you will appoint to a senior ministerial position (I understand it's the post of interior minister), responsible for budgets of billions of shekels, a person in whose conviction the judges wrote: 'The evidence reveals a harsh reality of bribery. This is not the isolated failure of a young man who was recently exposed to political power, but someone who systematically led a lifestyle based on corruption."
The Yesh Atid leader continued to quote from the ruling, writing: Deri "took bribes for five years during which he held public positions."
The former finance minister concluded his statements by writing: "Mr. prime minister, do not leave the public coffers in the hands of such a person, the money belongs to all of us."
Deri was convicted in 1999 of taking $155,000 in bribes while serving as interior minister and eventually served two years of a three year sentence. He was reinstated as leader of Shas on October 2012 after a thirteen-year hiatus.
The Shas party responded to Lapid, saying: "Mr. Lapid, we are done getting orders from your honor, Israel is done getting orders from your honor." The party was referencing a speech Lapid made at the opening of the Knesset's summer session in April 2013.
"The most failing finance minister in Israeli history still dares to preach after shattering tens of thousands of families, bringing hard times upon them," the party statement went on to say. "After two years of amateur economic leadership, the people of Israel deserve an experienced leadership."
After winning 7 seats in the elections, the Shas party will demand the Interior Ministry for its chairman Aryeh Deri. Unlike his predecessor Eli Yishai, who also served as interior minister, Deri will avoid dealing with controversial issues like the African infiltrators and Daylight Savings Time, and instead focus on social issues. At the top of his priorities is a redistribution of the ministry's resources and budget in a way that favors the periphery.
Speaking on Wednesday during his party's first meeting since the elections, Deri said: "We have been given a miracle that this government fell, all of those who chased us and tried to suppress us or weaken us are now taking inventory because of all they lost."
According to Deri, "A different government will be formed, which we will be a part of, that wil be more social, more religious and keep tradition. We will recommend Netanyahu, but we will not enter the government without the conditions we put forward."
"Eli Yishai polluted Shas, which was a clean from disagreements," said Deri adding a jab at Yishai who's newly formed party did not pass the election threshold.
Kobi Nachshoni contributed to this report.