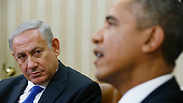 Netanyahu and Obama meeting in the White House in September 2013
Photo: AP
Obama: We believe Netanyahu doesn't want a Palestinian state
In first public comments after Israeli elections, US president says his administration is evaluating options 'to make sure that we don't see a chaotic situation in the region' following PM's rejection of two-state solution and subsequently backtracking.
US President Barack Obama said Friday he has taken Prime Minister Benjamin Netanyahu on his word that he doesn't support a two-state solution, despite Netanyahu backtracking on his statement that a Palestinian state will not be formed under his watch.

"That is why we've got to evaluate what other options are available to make sure that we don't see a chaotic situation in the region," the president told the Huffington Post in his first public comments about Netanyahu's win since the elections.

Netanyahu said on Monday, a day before the elections, that he would not permit a Palestinian state to be created under his watch if he is re-elected.

"Whoever moves to establish a Palestinian state or intends to withdraw from territory is simply yielding territory for radical Islamic terrorist attacks against Israel," he told the Israeli news site NRG.

Asked if that meant a state would not be established if he remained prime minister, he said: "Indeed."

But the day after the elections, after his party secured 30 seats in the 20th Knesset, Netanyahu was quick to backtrack on his statement, telling NBC that he did want a "sustainable, peaceful two-state solution" but that the current situation does not allow for that to happen.

"I haven't changed my policy. I never retracted my speech in Bar-Ilan University six years ago calling for a demilitarized Palestinian state that recognizes the Jewish state," he said.

Obama talking to the Huffington Post ( )

Obama said he told Netanyahu during their phone conversation on Thursday that "a two-state solution is the only way for a long-term security of Israel if it wants to stay both a Jewish state and democratic," noting that "given his (Netanyahu's) statement prior to the election, it is going to be hard to find a path where people are seriously believing negotiations were possible."

The president said he told Netanyahu that the continued settlement construction was "not a recipe for stability in the region" and cannot continue in perpetuity.

Obama went on to say his administration will keep cooperating with Israel on military and intelligence regardless of policy disagreements between the two countries. However, he made no comment on the prospect of Washington withdrawing crucial diplomatic cover for Israel at the United Nations.

The American president also expressed his discomfort at Netanyahu's warning on Election Day that Arab voters were going to the poll "in droves."

"Although Israel was founded based on the historic Jewish homeland and the need to have a Jewish homeland, Israeli democracy has been premised on everybody in the country being treated equally and fairly and I think that that is what's best about Israeli democracy. If that is lost, then I think that not only does it give ammunition to folks who don't believe in a Jewish state, but it also I think starts to erode the meaning of democracy in the country," Obama said.

Obama said he did not think the re-election of Netanyahu, a vocal opponent of worldpowers' nuclear negotiations with Iran, would affect talks with Tehran.

"Obviously there's significant skepticism in Israel generally about Iran and understandably. Iran has made vile comments, anti-Semitic comments, comments about the destruction of Israel," he said. "It is precisely for that reason that even before I became president I said Iran could not have a nuclear weapon."

Iran, which rejects suspicions it wants to build a nuclear weapon, is negotiating with six world powers in search of a framework deal by the end of March and a final agreement by June 30.

Tehran wants a lifting of international sanctions, while the six powers are pressing for curbs on Iran's most sensitive nuclear activities for at least 10 years.

Reuters contributed to this report.