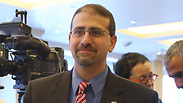 US Ambassador to Israel Dan Shapiro.
Photo: Yaron Brenner
US Ambassador to Israel Dan Shapiro said on Sunday that in light of Prime Minister Benjamin Netanyahu's recent comments denouncing his support for a Palestinian state, the US has no choice but to examine its next steps when it comes to its policy towards Israel: "This was not Israel's stance until those comments. It is confusing and raises doubts regarding Israel's true stance.

"The question we are still focusing on is how to progress towards the solution of two states for two nations," Shapiro said in an interview with Army Radio.

Shapiro's comments came the morning after President Barack Obama said he did not believe Netanyahu supports the establishment of a Palestinian state.

Obama was referring to comments made by Netanyahu during the last few days of his election campaign in which he hard-lined his position and said that there would be no Palestinian state if he were to be elected Prime Minister.

But the day after the elections, after his party secured 30 seats in the 20th Knesset, Netanyahu was quick to backtrack on his statement, telling NBC that he did want a "sustainable, peaceful two-state solution" but that the current situation does not allow for that to happen.

"I haven't changed my policy. I never retracted my speech in Bar-Ilan University six years ago calling for a demilitarized Palestinian state that recognizes the Jewish state," he said.

Obama said he told Netanyahu during their phone conversation on Thursday that "a two-state solution is the only way for a long-term security of Israel if it wants to stay both a Jewish state and democratic," noting that "given his (Netanyahu's) statement prior to the election, it is going to be hard to find a path where people are seriously believing negotiations were possible."