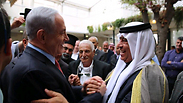 בנימין נתניהו ערבים מפגש
Photo: Likud
Netanyahu apologizes to Israeli Arabs for Election Day comments
Israeli Arabs refused to accept apology after Netanyahu warned rightwing voters that 'US and foreign funds' were getting the Arab voters in 'droves', prompting condemnations from across political spectrum, even from Israeli president Rivlin, and US President Obama who said they erode Israel's democracy.
Following massive criticism over his Election Day rhetoric on Israeli Arabs, Prime Minister Benjamin Netanyahu apologized Monday evening for labeling a high Israeli Arab voter tunrout as a "threat" and saying Israel's Arabs were comming out "in droves" to vote.

However, Israel's sole Arab party rejected the apology, calling it "empty words intended to preserve his racist regime."

"I know the things I said a few days ago hurt some of Israel's citizens and hurt Israel's Arabs. I had no intention to do that. I apologize for it," Netanyahu told a group of pro-Likud minority leaders.

"My actions as prime minister, including the massive investments in minority groups, prove the complete opposite. I equally think that no authority outside of Israel should meddle in our democratic processes. I see myself as the prime minister of every one of you, of all Israeli citizens, without any difference of religion, race, or gender. I see all Israeli citizens as partners in the building of a thriving and secure Israel for all Israeli citizens," Netanyahu said.

Israeli Arab MK demands:

Op-ed: Even if the prime minister was elected democratically, his statement against Arabs exercising their right to vote is undemocratic, and he is unworthy of serving as prime minister.

Israel's only Arab party, the Joinst Arab List, rejected the apology, saying "Sadly the racism of Netanyahu and his government did not start with this statement and it surely will not be its end.

"Racist and exclusionary legislation are part of Netanyahu's work plan for the next Knesset, and thus we have no choice but to reject this apology and continue our struggle for equality for (Israel's) Arabs. His 'apology' is just empty words intended to preserve his racist regime," they said in a statement.

Speaking to Channel 2, head of the party Ayman Odeh slammed Netanyahu for not even inviting the party to the event in which he made the comments. "We won the votes of 90 percent of Israeli Arabs, but Netanyahu wants to cherry pick," Odeh said.

In Washington, State Department spokeswoman Marie Harf told reporters Monday that she had not seen the Netanyahu apology but that the Israeli prime minister is hard to read because "he said diametrically opposing things in the matter of a week."

"When you say things, words matter. And if you say something different two days later, which do we believe," she said. "What we're looking for now are actions and policies."

Hours before the polls were set to close in Israel's March 17th election, and with his political future in question, Netanyahu made a list-ditch appeal to hard-liners as the country went to the polls, saying that high Arab voter turnout was endangering his right wing party's dominance.

"Voter turnout in the Arab sector is three times higher! The threat is real: Abu Mazen's calls and American money are getting the Arab vote out. Go and vote," a message sent by Prime Minister Netanyahu's Likud party informed Israelis during Election Day.

In retrospect, some say the comments might have helped the Likud take the elections and overcome the relatively low result the polls predicted for them. However, they drew condemnations from across the political spectrum.

Just this Sunday, Israeli President Reuven Rivlin said the comments were "hurtful" and urged a group of Likud officials who came to his residence as part of the coalition process to work towards mending ties with Israeli Arabs.

The only willing to talk was MK Yariv Levin who tried to blow the statement off as another case of electioneering, saying Netanyahu did not try to disenfranchise Arabs, but only urge right wing voters to come out.

The American president also expressed his discomfort at Netanyahu's warning on Election Day that Arab voters were going to the poll "in droves."

"Although Israel was founded based on the historic Jewish homeland and the need to have a Jewish homeland, Israeli democracy has been premised on everybody in the country being treated equally and fairly and I think that that is what's best about Israeli democracy. If that is lost, then I think that not only does it give ammunition to folks who don't believe in a Jewish state, but it also I think starts to erode the meaning of democracy in the country," Obama said.

President Rivlin seemed to echo the claiming, saying Sunday "that the prime minister was elected by the majority but he must represent all of Israel – Jews, Arabs, leftists and rightist."

Netanyahu has been in hot water for another pre-election promise – a reversal of his support for the formation of a Palestinian state and the two state solution.

"Whoever moves to establish a Palestinian state or intends to withdraw from territory is simply yielding territory for radical Islamic terrorist attacks against Israel," he told the Israeli news site NRG a day before elections.

Asked if that meant a state would not be established if he remained prime minister, he said: "Indeed."

But the day after the elections, after his party secured 30 seats in the 20th Knesset, Netanyahu was quick to backtrack on his statement, telling NBC that he did want a "sustainable, peaceful two-state solution" but that the current situation does not allow for that to happen.

"I haven't changed my policy. I never retracted my speech in Bar-Ilan University six years ago calling for a demilitarized Palestinian state that recognizes the Jewish state," he said.

Obama responded to the comments, saying he told Netanyahu during a phone conversation last Thursday that "a two-state solution is the only way for a long-term security of Israel if it wants to stay both a Jewish state and democratic," noting that "given his (Netanyahu's) statement prior to the election, it is going to be hard to find a path where people are seriously believing negotiations were possible."

Media reports said the United States was reviewing its position on a UN Security Council resolution on Palestinian state. In the past Israel has relied on US veto power on the Security Council to support its interests.