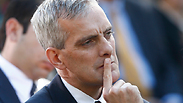 President Barack Obama's Chief of Staff Denis McDonough
Photo: AP
WASHINGTON - President Barack Obama's chief of staff said the United States can't simply pretend that Prime Minister Benjamin Netanyahu didn't reject the possibility of a Palestinian state, explaining that was the reason the US was reevaluating its policy on Israel.

Netanyahu made the comment just before Israel's elections last week, but later backpedaled. White House chief of staff Denis McDonough says Netanyahu's contradictory answers call into question his commitment to a two-state solution.

Video: Reuters (צילום: רויטרס)

"We cannot simply pretend that these comments were never made," said McDonough, one of Obama's top advisers, speaking to the liberal Jewish American group J Street Monday.

"Such contradictory comments call into question (Netanyahu's) commitment to a two-state solution, as did his suggestion that the construction of settlements has a strategic purpose of dividing Palestinian communities," he said

According to the top aide, though "some have suggested our reaction to this issue is a matter of personal pique, nothing could be further from the truth." The US remains committed to peace, he said, reiterating comments made by Obama that the US no longer believes Netanyahu's commitment to peace.

"That is why President Obama has said that we need to re-evaluate our approach to the peace process and how we pursue the cause of peace – because, like all of you, we care deeply about Israel and its future.

"We will look to the next Israeli government to match words with actions and policies that demonstrate a genuine commitment to a two-state solution."

He said the United States has expended much energy on diplomatic efforts promoting a two-state solution and that was why the Israeli leader's comments last week "were so very troubling."

McDonough criticized the Israeli government over construction of settlements in the West Bank, slamming "an occupation that has lasted for almost 50 years" and saying it "must end."

"The Palestinian people must have the right to live in and govern themselves in their own sovereign state," he said.

McDonough says the US would never support Israel annexing the West Bank. He says Israel can't control another people forever and is warning it could contribute to Israel's "total isolation."

"We cannot give up on the idea that peace is possible, because peace will make Israel stronger. It would provide clear, secure borders that would increase Israel's security. It would deal a knock-out blow to calls for boycotts, divestment, and sanctions, which many of you have fought hard and courageously to oppose," McDonough told J Street, an Israel advocacy group strongly critical of Netanyahu.

On Monday, Netanyahu apologized to Israel's Arab citizens for another set of remarks that offended members of the community and drew additional US criticism. Netanyahu said he never intended to offend the country's Arab-Israeli minority, but it wasn't immediately clear whether that apology would placate those in Israel and elsewhere who took offense.

Obama's decision to dispatch his chief of staff to speak to J Street just days after the election was perceived as another sign the Obama administration intends to take a tougher tack toward Netanyahu despite its insistence that the US-Israeli relationship is still strong.

McDonough received a standing ovation when he called out Israel's government for ongoing construction of settlements in the West Bank.

McDonough's critique of the Israeli leader came as both Israelis and Palestinians are closely watching to see how US policy will change in practical terms after Netanyahu's success in the elections.

Obama has said the US must re-evaluate its approach to pursuing Mideast peace because of Netanyahu's comments, and has entertained speculation the US will be less willing to come to Israel's defense in the United Nations. The US has voted against UN resolutions supporting the establishment of a Palestinian state, insisting that is a matter to be negotiated in peace talks.

Associated Press contributed to this report.