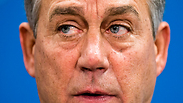 US House of Representatives House Speaker John Boehner
Photo: AP
The leader of the US House of Representatives House said Tuesday that he's "baffled" by reports that Israel spied on negotiators in the closed-door talks over Iran's nuclear program - espionage that Israeli officials denied.

"I'm baffled by it," Speaker John Boehner told reporters about the news report that comes at a time of strained relations between the US and Israel. "I'm not aware of that at all."

The Wall Street Journal reported that Israel had shared the information it obtained with US lawmakers and used it to build a case against an emerging nuclear agreement. The so-called P5+1 group - Britain, China, France, Russia, the United States and Germany - is rushing to complete a framework for a deal to prevent Iran from developing nuclear weapons in exchange for relief from sanctions before a deadline expires at the end of the month.

Spy report in context

Analysis: The Obama administration has launched a media blitz against Netanyahu, fearing a narrow right-wing government that could be a potential 'nightmare' for the US.

Prime Minister Benjamin Netanyahu has been feuding with the White House over an emerging deal, and he has come under fire for comments he made in the final days of Israel's parliamentary election campaign last week.

Foreign Minister Avigdor Lieberman said Israel didn't spy on the US, but obtained information through other participants.

"We do not spy on the United States," Lieberman told Army Radio. "...All the information we obtained is from a different side and not through the United States."

Lieberman said Israel decided years ago not to spy on the United States, directly or indirectly. "I have never encountered anyone who breached this directive in the past two decades," he said.

Reacting to the report, Defense Minister Moshe Ya'alon said "there is no way" that Israel spied on its closest and most important ally. Ya'alon, a former military chief and head of military intelligence, noted that Israel has received no complaints from the US, which he said would be expected in such a case.

"I am sorry it came out this way. I have checked whether anyone from the intelligence community received a complaint, because if there was such a thing we should have received a complaint. We did not receive any complaint, but apparently someone has an interest in sparking a dispute, or creating a bad atmosphere in our relations."

Last month, Secretary of State John Kerry was asked at a congressional hearing whether the US has kept Israel fully abreast of the negotiations.

"Yes we have," Kerry told lawmakers.

But Kerry also has complained that details about the negotiations that have leaked have not been helpful in the sensitive talks.

Israel, which believes Iran is trying to develop a nuclear bomb, believes the deal being negotiated would leave much of Iran's nuclear infrastructure in place and allow it to become a "threshold" state capable of building a bomb. Netanyahu has called it a "bad deal" and has lobbied against it - most notably in a speech to the US Congress early this month that was delivered over White House objections.

Iran says its nuclear program is for peaceful purposes only - a claim that has been received with skepticism by much of the international community.

In its report, the Wall Street Journal said Israel had acquired information from confidential US briefings and other means and used the information to build a case against the deal. It said the White House was especially upset that Israel had shared the information with US lawmakers and others to undercut support for the negotiations.

Israel has said it doesn't spy on the US since Jonathan Pollard, a civilian analyst for the US Navy, was convicted of spying for Israel in the 1980s. The case was one of the most damaging episodes in US-Israeli relations and remains a sore spot in some American circles.