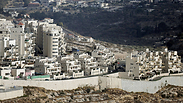 Israel is freezing construction of 1,500 new housing units in the East Jerusalem neighborhood of Har Homa, beyond the Green Line, despite Prime Minister Benjamin Netanyahu's election eve declaration that building in Jerusalem would continue regardless of international pressure.

The massive construction plan in Har Homa has been suspended "for neither planning nor professional reasons," Ynet has learned.

The Ministry for Construction and Housing and Jerusalem municipality confirmed that two critical planning discussions set for the coming week on advancing the construction have been canceled for unknown reasons.

Planning officials familiar with the details of the plan told Ynet that the program is not being advanced due to the political sensitivity and that there had been no approval from the Prime Minister's Office to hold the planning discussions.

Related articles:

The construction is planned for private land west of the Har Homa neighborhood, between its existing homes and Hebron Road. The land is earmarked for construction on Jerusalem's master plan with a provision for up to 2,000 units in the future.

According to the Construction Ministry and Jerusalem Municipality, the project was due to be discussed Wednesday by the local planning committee, and was expected to receive Interior Ministry approval on Monday. But these two debates were canceled, the dismay of the project managers.

According to a source connected to the project, the construction was advanced with a proviso for further housing units.

The Construction Ministry said in response: "Our ministry advances building plans in Jerusalem. There is no professional or planning barrier to the advancement of this plan, as such there is professional reason for this 'freeze'. Regarding allegations that the freeze is accordance with guidelines from the Prime Minister's Office, please contact the Prime Minister's Office for clarification."

The Jerusalem Municipality said: "As the plan is off the agenda of the regional committee at the Interior Ministry, it has been taken off the agenda of the local committee (at the municipality of Jerusalem)."

Asked why the program was not discussed by the planning committees this week, the municipality said referred the question to Interior Ministry, which said that the plan "was not meant to be raised for discussion next week."

Construction in Har Homa has previously been a cause of friction between Israel and the US, which views it as illegal under international law. Last Monday, the day before the Knesset elections, Netanyahu told supporters in Har Homa that he would not support the creation of a Palestinian state if he were re-elected.

Following his election win, the prime minister attempted to downplay his comments, saying that he had not backtracked on his major 2009 policy speech, but only that he believed current conditions were not ripe for a Palestinian state.