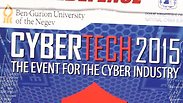 eviatar matania cyber conference tel aviv
Photo: Gilad Kavalerchik
"Investments in cyber companies in Israel have amounted to more than $250 million, and Israeli cyber companies have been acquired this year for a total sum of more than $1 billion," Israel National Cyber Bureau chief Dr. Eviatar Matania said Tuesday at the opening of the Cybertech 2015 conference in Tel Aviv.
According to Matania, as part of the state's preparations in the field, every government ministry will have to allocate at least 8 percent of its IT budget to investments in cyber security.
"I'm sure," he added, "that it won't be long before it becomes a standard for the entire global market."
Matania referred in his address to the massive hacking on Sony Pictures Entertainment ahead of the release of The Interview, the comedy film about the assassination of Kim Jong-un, the North Korean dictator.
"It's clearer today than ever before that the public and the market cannot stand alone in this regard, and that states themselves have to make the necessary preparations," he said. "We are encouraged by the ever-increasing awareness of the seriousness of these threats."
Related articles:
The Israeli government recently adopted the National Cyber Bureau's recommendation to set up a national cyber security authority that will operate for the benefit of the civilian sector as an executive body with significant technological capabilities and widespread national and international partnerships.
"For quite some time now, Matania said, "the Israeli industry has been known as a global force in the field of cyber defense, and I am proud to say that it continues to break records."
The Cybertech 2015 conference, which continued Wednesday, is being attended by around 700 representatives of industry leaders and cyber security organizations from around world, alongside 100 Israeli startups.
The guests include senior officials from dozens of countries, including the head of the UN's cyber security body, the head of the US Homeland Security Department's cyber division, and senior executives from companies such as Boeing, Coca-Cola, IBM and others.