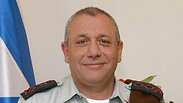 Gadi Eisenkot: Streamlining
Photo: GPO
After four years during which the Israel Defense Forces has operated in keeping with short-term budget plans, sometimes of just a few months, the General Staff is now formulating a multi-year plan – codenamed Gideon – that will allow the military to ready itself for the threats in the region and streamline its budget by means of long-term contracts.
Chief of Staff Gadi Eisenkot has issued a directive under which the IDF will focus its operations this summer on training exercises in preparation for the next war until the multi-year plan is approved by the political echelon. To achieve this, the army will have to suspend some of its development and procurement programs.
The IDF's budget amounts to approximately NIS 30 billion, out of the NIS 57 billion defense establishment budget in total.
According to a senior defense official, a multi-year program is a necessity and will lead to increased efficiency and financial savings.
Related articles:
"Contractual engagements for just a few months, or even a year, are clearly more costly than contractual engagements for several years," the defense official says.
"And I don't mean only with regard to stockpiles of munitions, but also basic goods such as tuna for battle rations and cottage cheese. The fact that we weren't allowed to receive a multi-year budget meant a loss not only for the defense establishment but for the state budget too. Allowing us to implement such a budget plan would be in the interest of the new government."
The bottom line, say army officials, is that security costs in 2015 will be higher than ever. "Acquiring intelligence in today's technological era costs a lot more than in the past," says the senior defense official. "The bombs are smarter and thus more expensive – and the food costs, too, have increased on a regular basis."
One of the main and most expensive items on the agenda involves the IDF's active defense systems against rockets.
"The public wants protection against rockets, especially from Hezbollah, but isn't always aware of the cost. A single David's Sling missile costs around $1 million, and a missile like that only intercepts one rocket," the defense official says, noting that even though the development of the Iron Dome system was expensive, it did prove itself worthwhile during Operation Protective Edge.
According to the official, the 600 or so interceptions carried out by the Iron Dome batteries during the operation saved not only lives but also billions in state compensation to victims of rocket attacks.
Meanwhile, Eisenkot has instructed the IDF to continue with its program of lay-offs under which 2,500 permanent force officers and NCOs have already left the army. Another 2,000 permanent force members will be dismissed over the coming two years.