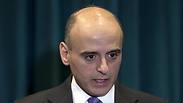 Saudi envoy in US announces air strikes
Photo: AP
The Iranian Foreign Ministry on Thursday branded Saudi-led airstrikes on Houthi rebels in Yemen a "dangerous step" that will worsen the crisis there.
Iran demanded an immediate halt to all "aggressions" in Yemen and warned that it might further complicate the situation, the semi-official Fars news agency reported on Thursday.
Saudi Arabia and Gulf region allies launched military operations - including air strikes - in Yemen early Thursday morning, officials said, to counter Iran-allied forces besieging the southern city of Aden, where the US-backed Yemeni president had taken refuge.
The Students News Agency also quoted Iranian Foreign Minister Mohammad Javad Zarif as saying that Iran will make all necessary efforts to control the crisis in Yemen.
"The Saudi-led air strikes should stop immediately and it is against Yemen's sovereignty ... We will make all efforts to control the crisis in Yemen," Zarif said from the Swiss city of Lausanne.
"Iran wants an immediate halt to all military aggressions and air strikes against Yemen and its people ... Military actions in Yemen, which faces a domestic crisis, ... will further complicate the situation ... and will hinder efforts to resolve the crisis through peaceful ways," Fars quoted Foreign Ministry spokeswoman Marzieh Afkham as saying.
Iran denies providing money and training to the Shi'ite Houthi militia in Yemen, as alleged by some Western and Yemeni officials.
Related articles:
Meanwhile, a Saudi source familiar with defense matters said Thursday that a ground offensive may be needed to restore order in Yemen.
"We can't get our objectives in restarting the legitimate government by controlling the sky of Yemen ... a land offensive might be needed to restore order," the source told Reuters.
Yemen's slide towards civil war has made it a crucial front in mostly Sunni Saudi Arabia's rivalry with Shi'ite Iran, which Riyadh accuses of stirring up sectarian strife throughout the region and in Yemen with its support for the Houthis.
The crisis now risks spiralling into a proxy war with Iran backing the Houthis, and Saudi Arabia and the other regional Sunni Muslim monarchies supporting Yemeni President Abd-Rabbu Mansour Hadi.
Fighting has spread across the Arabian peninsula country since last September, when the Houthis seized Sanaa and advanced into Sunni Muslim areas, forcing Hadi out of the capital.