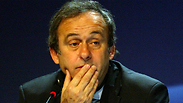 UEFA President Michel Platini
Photo: Yoad Cohen
The head of the Palestinian Football Federation is planning a move that could lead to Israel's suspension from all FIFA and UEFA activities.

UEFA President Michel Platini told the Israeli representative on the group's committee, former Israel Football Association chief Avi Luzon, that Jibril Rajoub – the Palestinian member – intended to raise a motion demanding the suspension of Israel for a vote.

Platini told Luzon that Israel must start working to avert that possibility. "This time it is serious," he warned him, saying that there were several countries that would side with the Palestinians, "even if you are right."

The former football star also explained to Luzon that Israel must use diplomatic channels to thwart the Palestinian attempt to isolate it from the international soccer stage.

Rajoub's request will likely again be based on the claim that Israel makes it difficult for Palestinian athletes to move between the Gaza Strip and the West Bank, thus purportedly breaking international agreements.