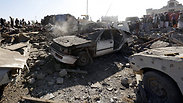 Saudi strike on Yemen
Photo: EPA
Saudi citizens awoke on Thursday to find their country involved in its first major military operation since the Persian Gulf War. Saudi Air Force warplanes, with the support of several other armies from the Gulf and abroad, attacked Houthi rebel positions in Yemen overnight.

The intention of the airstrikes was clear – to prevent Yemen, Saudi Arabia's "backyard", from falling under Iran's sphere of influence, as happened in Iraq, Syria, and Lebanon.

Hussein, a Saudi resident of Riyadh, told Ynet on Thursday evening that the Islamic kingdom was not shaken up despite the nation's entry into a foreign conflict. He said life continued as normal in the Saudi capital and the operation has won extensive support from the public.

"The Houthis are supported by Iran," he said, emphasizing the Islamic Republic's connection to the Shiite rebels, "Saudi Arabia stayed silent because of the events in Syria and Iraq, but Yemen is a red line for us. Iranian control of Yemen poses a massive threat to Saudi Arabia."

Hussein noted that the Saudi street was uplifted by the wide unity of the Arab world against Iran in the operation – a series of Sunni states have joined the campaign directly while other Muslim states have expressed their support of the attempt to stop the Shiite takeover of Yemen.

"The support of states like Egypt, Pakistan, and Turkey in the operation is a message to Iran," he said.

In a statement which reflected the enormous sense of security felt by the Saudis, Hussein added: "Iran is a paper tiger, it cannot do anything. Maybe it will try to stir up the Shiites in Saudi Arabia and Bahrain against the Sunni administrations of those countries, maybe the Houthis will respond – but Iran will do nothing."

Hussein emphasized the odd partnership rising between the Islamic kingdom and Israel. "Iran is the worst foe for all of us."