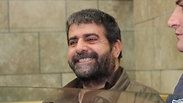 Siddqui Al Maqt in court
Photo: Mohammed Shinawi
A recently-released veteran security prisoner was arrested again on charges of espionage, after he allegedly passed photocopied materials, reports and observations on IDF activity in the Golan Heights to Syrian intelligence sources, it was revealed Friday.
Siddqui Al Maqt, 48, was indicted at the Nazareth District Courthouse on Friday following a lengthy investigation by police and the Shin Bet.
He stands accused of espionage, abetting an enemy during wartime, supporting a terror organization, having contact with a foreign agent and other security offenses.
He was arrested along with two other Druze men from the Golan, Atef Darwish and Fidaa al-Shaer.
Al Maqt was released from Israeli prison two and a half years after serving a 27-year sentence. He was first imprisoned in 1985 on charges of terrorist activity and was released in August 2012.
Police said that he returned to nationalist activity immediately after his release. "He began to spread incitement and promote nationalistic activities in the Golan Heights and the Palestinian Authority," said the chief of the police investigation team, superintendent Eli Fuchs.
"He supports Hezbollah, Iran and Bashar Assad. He believes the Golan Heights belongs to Syria and that it must be returned to Syria. According to this thinking, a Golan resident holding an Israeli ID card is a traitor."
Investigators allege that Al Maqt documented IDF activity on the northern border, collected information on it, and gave it to intelligence and government sources in Syria.
Security sources said the passing of information was carried out by uploading materials online, broadcasting them on Syrian television, and by direct contact between Al Maqt and Syrian agents.
The sources said Al Maqt admitted to the charges during questioning and also confessed to contacting Medhat Saleh, a Syrian government member known for ties to Syrian intelligence.
"He cooperated and confessed to most of the charges against him," said police. "He speaks to us from an ideological standpoint; he considers himself a Syrian citizen serving his country and believes wholeheartedly that he was doing good."
They added that the large-scale investigation began months before the arrest that included police detectives, police intelligences, the Shin Bet and the IDF.
'Blessings to Assad'
"I want to send blessings to the Arab Syrian people, our soldiers and the head of the regime, the leader Bashar Assad," Al Maqt said at court on Friday.

The Syrian Foreign Ministry sent a letter to the United Nations, the Security Council the UN Human Rights Council, demanding to free Al Maqt. The letter stated that "this crime is part of a series of crimes committed by the occupation forces against Syrian citizens in the Golan, and joins a list of shameful crimes Israel has committed."

The letter demanded the UN and other relevant bodies, including human rights organizations, to interfere to get Israel to release Al Maqt.

Al Maqt's father, Suliman, said at court that his son was called in for questioning several times and was arrested after he "exposed Israel's true face."

"Israel claims in front of the whole world that it is against terrorism, but it supports it. My son exposed its false ways," Suliman said, referring to footage his son filmed recently which allegedly shows a meetings between Syrian rebels and IDF troops.

While Al Maqt's family members were present in all court hearings, Suliman said they were not allowed to meet with Siddqui.

"We've gotten used to Israeli prisons since 1967 and they've never been empty of prisoners from the Golan Heights. We've also gotten used to the humiliating treatment we get from Israel. We have diplomatic and economic independence and it is our right to say how we feel. We bless the Syrian people, its soldiers and President Assad."

Syrian state media widely covered Al Maqt's arrest. Syrian state news agency Sana reported on the early-morning arrest on February 25 after IDF troops raided Al Maqt's family home in a Druze village in the Golan.

According to the Syrian report, the soldiers seized cellphones and a computer. "This is a blatant and unjust aggression against homes of civilians in the occupied Golan," the report said. "This is a blatant violation of the Geneva accord regarding the safety of civilians under occupation."

Relatives said Al Maqt "doesn't pose a threat to Israel's security, he didn't do anything that is against the law. We're all surprised of his arrest and the attempts to set him up with security-related accusations. We hope he will be released soon and return to his family. At the end of the day, as they say, it'll be a storm in a teacup."

Al Maqt's attorney, Yamen Zidane, said his client denies the allegations against him. "The video he filmed hurts Jabhat al-Nusra, which Israel declared is a terrorist organization."

Roi Kais, Hassan Shaalan, Yoav Zitun and Ahiya Raved contributed to this report.