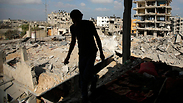 Palestinians return home to wreckage from IAF bombings
Photo: Reuters
The IDF committed war crimes and crimes against humanity during last year's offensive in Gaza, a rights group said on Friday.

The 50-day military offensive in July and August 2014 - code-named "Operation Protective Edge" - "was marked by serious breaches of ... international human rights law," said the International Federation of Human Rights (FIDH), after conducting a field mission in October 2014.

The Paris-based group also condemned Palestinian armed militants for "indiscriminate firing of rockets and mortars" and using civilian structures - including schools, cemeteries and places of worship - as well as booby traps and human shields.

But it said the fact that the Palestinian militants violated international laws did not give the IDF "carte blanche" to disregard international laws as well.

It accused the IDF of "indiscriminate attacks on civilians and their residences; attacks on medical facilities, transport and personnel; and attacks on structures providing shelter to internally displaced populations".

The FIDH team of investigators who visited the Gaza Strip included a member of the Belgian League of Human Rights and the Permanent Representative of the FIDH to the European Union.

The team visited several towns and districts such as severely bombarded Rafah, Khan Younis, Beit Hanoun and Gaza City, where they interviewed witnesses, officials and members of Palestinian human rights NGOs.

The 50-day Gaza war left more than 2,100 Palestinians dead, mostly civilians, according to Palestinian sources and UN officials. On the Israeli side, 66 soldiers and six civilians were killed.

The IDF "violated certain fundamental principles of international humanitarian law applicable to the conduct of hostilities," the report said.

However, "the claims that Palestinian groups had used civilian infrastructure for military purposes (such as hiding weapons in schools, cemeteries and places of worship), fired rockets from civilian neighborhoods, employed traps and used human shields, must be reviewed and followed with prosecution."

A report released on Thursday by Amnesty International said that Hamas and other Palestinian militant organizations had committed war crimes during the summer war, by killing six civilians in Israel and 13 Palestinian civilians using indiscriminate projectiles.

Another damning report released Thursday by the UN Office for the Coordination of Humanitarian Affairs (OCHA) accused both Israel and the Palestinians of war crimes, calling for restraint on both sides.

These reports comes after two reports issued in late 2014 that accused Israel of war crimes for attacks on multistory civilian buildings and attacks on Palestinian residential homes during the war.

The Associated Press contributed to this report.