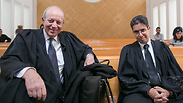 Attorney Amnon Lorch, author of the petition
Photo: Ohad Zoinenberg
Supreme Court justices criticized on Thursday the state's claim that soldiers' pay qualifies as an allowance and hence does not need to be have its use defined during a hearing on a petition demanding to raise pay for IDF conscripts.
Justices Esther Hayut, Uzi Fogelman, and Dafna Barak-Erez called on the state to form clear criteria for the payment of soldiers' salaries and ruled that state prosecutors must respond to the demand within 60 days, before a final court decision.
State Attorney Dana Bricksman made the case that the nature of the payment does not require criteria: "It is not meant to fulfill a purpose such as providing for specific needs. This kind of payment is similar to an allowance." Justice Esther Hayut opposed the claim, saying that "when there is a decision to pay, the claim that you are not obligated to set criteria for these payments is most dubious."
"Does the military provide soldiers with all its needs?" Hayut asked. "A soldier is required to be shaven, with shined shoes – does the military provide shaving supplies and shoeshine?" Receiving a negative answer, she added: "So how is a soldier to fund these basic needs? If he stands unshaven during roll call he'll be punished. You are saying you don't have to provide and therefore the parents must pay."
Justice Fogelman said that one the one hand the state denies the money is for living expenses, but in practice "there are sums that a soldier needs for daily life, not just an allowance for pizza and a movie." Attorney Bricksman argued that the payment sums were revised over the past two years and that the army is examining the different options.
The justices clarified that they are not interested in deciding on a sum for the military, but rather "to know there are intelligent criteria and that someone is considering exactly what the basic consumption needs are for a soldier, not some general claim that we don't need to pay at all."
Hayut concluded: "We are not talking about resolutions involving one more item or one less, but wish to demonstrate that without criteria we do not know how you arrived at the amounts. Without that you can't give anything."
The petition under review in court was submitted in 2012 by Amnon Lorch on behalf of his three children – Ariel, Shani and Amir Lorch, some of whom were soldiers at the time. It set forth the claim that the payment is intended – according to the IDF's definition – "to meet the basic needs of conscripts", but in practice does not provide this and discriminates between those who serve and those who do not.
It also claimed that while salaries for the standing army and the chief of staff increased by 20 per cent since 2002 and the consumer price index rose more than 20 per cent, the salary for conscripts remained the same, and is derived from a subsistence cost set in 1986. The burden has thus fallen on soldiers' parents, the petition said.
The petition included a demand to update the subsistence and increase it by 23 per cent pay in accordance with the rise of the price index, a step the defense minister has carried out since January 2014.
In addition, the defense ministry announced an increase in subsistence pay of about another 25 percent, comparable to the money given to national service volunteers. Currently soldiers earn NIS 1,077, members of combat support units get NIS 783, and non-combatants receive NIS 540.
Despite the pay raise, the petitioners claimed that the average monthly needs for soldiers, without the money their parents spend with their credit cards, is about NIS 1,200. As some soldiers who earn less than half that amount, it is necessary to provide all soldiers with a similar sum.
Lorch said following the hearing that "after three and a half years there is some gratification. When the needs of IDF soldiers become clear, the state will have no choice but to stop its evasion and raise the salary, so that soldiers will be able to meet their basic needs and won't have to count pairs of socks."
Lorch's children, in whose name the petition was filed, added: "The petition is in our names, but our fathers represents hundreds of thousands of IDF soldiers who were forced to make do with outrageous salaries during their years of service. We will not be able to enjoy the change, but it's important that every soldier who is drafted knows there's someone fighting for him."