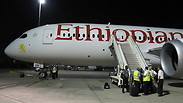 Ethiopian Airlines aircraft
Photo: Dani Sadeh
Ethiopian Airlines was forced to postpone two flights to Israel on Thursday after it did not have permission to fly on route due to the escalating turmoil in Yemen and in light of information received from security sources. About 280 Israelis who were on vacation in the area were supposed to be aboard the flights, which eventually took off after long delays.
The first flight was scheduled to take off from the Addis Ababa Bole International Airport in the afternoon hours, and land in Tel Aviv at 8 pm. The second flight was supposed to take off in the evening and land in the Ben Gurion International Airport at 3 am.
Ethiopian Airlines' Israel Manager Henok Teshager said that the delays were due to regional developments and information obtained from security officials both in Ethiopia and abroad over the past 24 hours. He confirmed that most of the passengers were Israelis, and added that the company places the utmost importance in the safety of the passengers.
"At a time such as this, we should not be thinking about profits, but about safety, which is why the flight was delayed."
Close to midnight on Thursday, the airlines received a special permission to fly to the destination using a different route than usual. One of the flights landed in Tel Aviv at 7:42 am – almost a 12 hour delay. The second flight landed after a delay of four hours.
Ethiopian Airlines operates a Boeing 737-800 aircraft to Israel. The company's Boeing 787-800 Dreamliner dubbed "Africa First", also occasionally flies to Israel. In October, the company tripled the number of flights it runs to Israel and began operating two daily flights to Addis Ababa, compared to five weekly flights in the past.
Saudi bombs Yemen rebel camps
Arab coalition warplanes bombed rebel camps in Yemen on Friday in a second straight day of strikes led by Saudi Arabia, which accused Iran of "aggression" across the region.
A months-long rebellion by Shiite fighters has escalated into a regional conflict that threatens to tear apart the impoverished state at the southern tip of the Arabian Peninsula.
Sunni-ruled Saudi Arabia has vowed to do "whatever it takes" to prevent the fall of its ally President Abedrabbo Mansour Hadi, accusing Shiite Iran of backing the Huthi rebels' power grab.
At least 39 civilians have been killed so far in the Saudi-led Operation Decisive Storm against the Huthis, officials at the rebel-controlled health ministry in the capital said.
AFP contributed to this report.