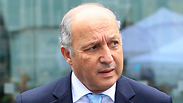 French Foreign Minister Laurent Fabius
Photo: Reuters
France plans to start discussions with partners in the "coming weeks" on a United Nations Security Council resolution to lay out parameters for ending the Middle East conflict, French Foreign Minister Laurent Fabius said on Friday.
"I hope that the partners who were reluctant will not be reluctant anymore," said Fabius, referring to the United States, which has traditionally shielded its ally Israel from any action at the UN.
In response to Fabius' comments, a US official, speaking on condition of anonymity, said: "We're not going to get ahead of any decisions about what the United States would do with regard to potential action at the UN Security Council."
He said Washington continues to engage with key stakeholders, including France, "to find a way forward that advances the interest we and others share in a two state solution."
France, along with Britain and Germany, had also drafted a Security Council resolution late last year to set parameters for ending the conflict, but the text was put on the back burner until after the Israeli elections, which took place last week.
"We have said that these parameters have to be defined and recognized by the Security Council and that obviously the two parties have to discuss, but the discussion will be accompanied by an international effort," Fabius told reporters at the United Nations in New York.
Palestinians seek a state in Gaza, the West Bank and East Jerusalem, lands Israel captured in 1967.
Ahead of his re-election, Netanyahu said he would not permit a Palestinian state to be created under his watch and promised to go on building settlements on occupied lands.
Most countries view Israel's settlement building on occupied land as illegal. UN Middle East envoy Robert Serry told the Security Council on Thursday that continued settlement building may have already killed a possible two-state solution.
"Today nothing has moved forward, still development of settlements, the Palestinians are in a more and more difficult situation and we cannot stay like that," Fabius said.
EU weighs methods to urge revival of talks
The European Union is assessing new ways to push Israel back to the peace negotiating table with the Palestinians for a deal based on a two-state solution, working in tandem with the United States, EU officials say.

The EU is exploring new diplomatic terrain and could consider ways to discourage Europeans from buying products from Israeli settlements it believes are illegal.

Israeli Prime Minister Benjamin Netanyahu's election rhetoric has fueled doubts about Israel's commitment to a two-state solution – a cornerstone of EU and US policies for ending the Middle East conflict.

"We will not forget or ignore what was being said during the campaign and in particular some of the incendiary statements by Prime Minister Netanyahu," German EU lawmaker Reinhard Buetikofer told The Associated Press.

The Europeans are aware that the rhetoric could remain at fever pitch for the next month as the Israeli leader negotiates a new coalition government, so they are reluctant to move too far too fast.

"We first have to wait for the policy that new Israeli government is going to set out," Buetikofer said.

Middle East peace moves have been frozen since the last round of US-brokered talks collapsed last April. Since then, Israel fought a 50-day war against Hamas militants in the Gaza Strip and advanced plans to build hundreds of new homes in east Jerusalem, which the Palestinians claim as their capital.

The Palestinians, meanwhile, have sought unilaterally to have their long-hoped for state recognized by nations or institutions like the International Criminal Court.

To try to end the stalemate, the EU and the US want to breathe new life into the diplomatic Quartet – the US, EU, United Nations and Russia. The Europeans have also just named a new envoy to the region.

"The main focus we have is the re-launch of the peace process," the EU's top diplomat, Federica Mogherini, said earlier this month.

The EU is the biggest aid provider to the Palestinians but has traditionally followed the US lead on diplomacy with Israel. Yet EU-Israeli ties run deep, both culturally and commercially.

The 28-nation EU is Israel's biggest trading partner, and Israel has access to Europe's massive research and development fund Horizon 2020, as well as agreements on agricultural, industrial and pharmaceutical products

But when it comes to Middle East diplomacy, the 28 EU nations are divided. Sweden, for example, has recognized a Palestinian state, while Britain and Germany are staunch Israeli allies.

"This is a difficult period, and there are countries for which it is historically impossible to put pressure on Israel," said Marc Otte, Director General at the Royal Institute for International Relations, and a former EU Middle East envoy.

Among measures that could be considered if things don't improve are consumer campaigns about the origin of Israeli settlement produce or warnings to companies about the risks of doing business there, according to an EU document leaked in Israeli media and confirmed by an EU official.

The settlement expansion "should not be considered under the trade concessions that we make to Israel because we don't recognize them," Otte said.

Another step could be to send European observers to watch over Palestinian house demolitions and evictions or even monitor court cases.

Otte said indirect pressure could come from disgruntled Israeli taxpayers left to pay wages for services like the Palestinian police force, which the EU has helped to train.

As a new coalition is being formed, an EU report released this week underlines that the old problems persist in Israel – settlement expansion, the destruction of homes and restrictions on peoples' movements – and that they "threaten to make the two-state solution impossible."

"EU diplomacy will likely remain in a sort of listening mode for a while, looking at what might be Netanyahu's political and diplomatic signaling strategy. And it will also probably adjust its actions accordingly," said European Policy Centre analyst Andrea Frontini.