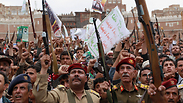 A Saudi-led military operation has targeted a base where Iranian-backed Houthi fighters had set up long-range missiles and pointed them towards the southern city of Aden and neighboring countries, a Yemeni official said on Saturday.

The official told Reuters that Yemeni authorities had received information that Iranian experts had brought in parts for the missiles at the base, located south of Sana'a.

Iran denies allegations made by some Yemeni and Western officials that it provides money and training to the Shiite Muslim Houthis, whose rapid territorial advances triggered an Arab military campaign against them.

The alliance attacking Houthi forces initially planned a month-long campaign, but the operation could last five or six months, a Gulf diplomatic official said on Saturday.

The official, from a country that belongs to the alliance, said Shiite Iran, the Houthis' main foreign ally, was likely to retaliate indirectly, by encouraging pro-Iranian Shiite activists to carry out armed attacks in Bahrain, Lebanon and eastern Saudi Arabia.

Iran, in a tug-of-war with Sunni-ruled Saudi Arabia for influence across the Middle East, has denied supporting the Houthis militarily, and has criticized the Gulf Arabs for their military action.

Since the Saudi-led coalition launched air strikes against them early on Thursday, the Houthis, seeking to overthrow the Western- and Saudi-allied President Abd-Rabbu Mansour Hadi, have continued to make gains.

Saudi Arabia's navy evacuated dozens of diplomats from Yemen and the United Nations pulled out international staff on Saturday after a third night of airstrikes.

Residents reported heavy clashes between the Houthis and mainly Sunni tribal fighters in the south of the country.

Dozens of diplomats were shipped out of Aden to the Red Sea port of Jeddah, Saudi television said, escaping the city where President Abd-Rabbu Mansour Hadi had taken refuge until Thursday, when he left for Egypt to shore up Arab support for his crumbling authority.

In the capital Sana'a, which has been under Houthi control since September, more than 100 UN staff were evacuated, a United Nations source said. Airport staff said dozens of other foreigners working for international oil companies and NGOs also flew out to Ethiopia and Djibouti.

The aforementioned Arab military official, who declined to be identified due to the sensitivity of the matter, said the Saudi-led attacks would go on until Yemen was able to resume a UN-backed political transition interrupted by the Houthis' seizure of Sana'a in September.

He said Gulf Arab concern over the Houthis' influence in Yemen had been heightened in January by satellite imagery showing Houthi forces repositioning long-range Scud missiles in northern districts near the Saudi border.

The Scuds, with a range of between 250 km and 650 km, were aimed northwards at Saudi territory.

He said Yemen's military had about 300 Scuds, the bulk of which were believed to be in the hands of the Houthis and allied military units loyal to former president Ali Abdullah Saleh, and that the campaign so far had destroyed 21 of them.

Reuters and the Associated Press contributed to this report.