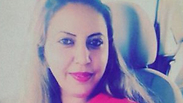 The victim Marin Haj Yahia
A Palestinian from Hebron residing in Israel illegally was indicted Sunday morning for the murder of his Israeli wife after she told him she was pregnant with his child.

Faiz Rajoub, 43, was already married with children when met 32-year-old Marin Haj Yahia from Taibe last June. Two months later he took her as his second wife and moved in with her to an apartment in Ashkelon.

According to the indictment filed at Lod District Court, Rajoub hit Yahia with a blunt object and then set her on fire.

After their wedding, the relationship between the two apparently disintegrated, allegedly because of Rajoub's objection to Yahia's desire for a child, as well as due to financial disputes. During this time, according to the indictment, the accused repeatedly beat his wife.

Shortly before her murder, Yahia told her husband that she was pregnant. On March 2, according to the indictment, Rajoub drove his wife from their home in Ashkelon to an uninhabited area near the Beit Berl College, where he hit her on the head with a blunt object and then set the car alight.

A request from the prosecution to extend Rajoub's remand noted that "from prosecution witness testimonies we can learn that the accused, married with children, married the late Marin in order to receive a permit to stay in Israel, among other reasons."

In his remand hearing earlier this month, Rajoub denied murdering his wife.

"I didn't murder (her). I'm asking the police to look for the real murderer," Rajoub said in court two weeks ago.

Guy Ben-Zvi, the attorney for Rajoub, said: "My client received a phone call from the victim's mother, who called him to ask why her daughter wasn't answering her phone. (Rajoub) called their landlord and asked him to check if his wife was home. After learning she had not been found, he went to the police station in Ashkelon at 11am and filed a report on her disappearance."

The victim's mother said: "My daughter was a great woman and I can't believe we've lost her. She was murdered in cold blood. A day before the murder, she was at my place with her husband. I didn't sense that her life was in danger. I don't want anything, only for God to take his revenge for us. This is a cruel murder. It wasn't only her who was murdered, it was also the baby she carried - she was three months pregnant. The murderer took my soul as he did my daughter's."